Now it's time to create our project! We'll walk through the options you should set to get started with the Ribbit project.
Known Issues
The latest version of the Android Tools is slightly different when creating a new project. In the wizard, the option "Fixed Tabs + Swipe" has been renamed to "Action Bar Tabs (with ViewPager)."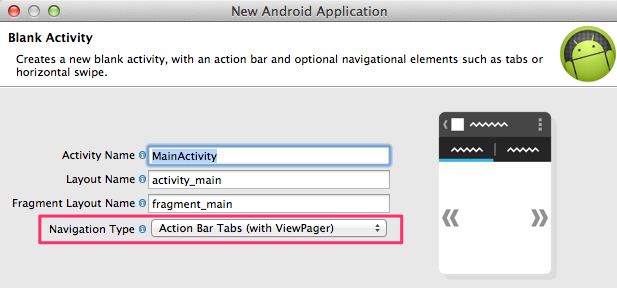 Genymotion Materials
Related Links
0:00

Okay, so now we're ready to create our project.

0:02

Select File > New and then we select Project,

0:07

we can go under Android and select Android Application Project.

0:11

We're gonna call our app Ribbit, so we'll type that as the name.

0:13

And then for the package name, remember that this is

0:16

a unique identifier that will never change for the app.

0:20

You can use something like com.yourname.ribbit

0:22

if you don't have a website.

0:24

But I'm

0:25

going to use com.pingtreehouse.ribbit.

0:29

The first part of the package name here should be common across all of your apps.

0:33

Now, one of the most important questions we need to answer here

0:36

is which version of the api do we want to target and support?

0:40

The minimum required SDK is the really important one.

0:45

Back on the Android developer site.

0:47

If we scroll down on the bottom and click on About android.

0:51

We can once again use the platform dashboard as our guide.

0:54

So, click on Dashboards over here on the left, and

0:58

if we look here at the platform version section, we can get data

1:01

on devices that have accessed Google Play within a specific seven day period.

1:06

So in this case it's a seven day period ending on December 2, 2013.

1:11

Older APIs have been slowly dropping off here.

1:13

And there's been a push to move support up to Android 4.0 and above.

1:18

In earlier projects we were trying to target as much

1:20

of this pie as reasonable, but we're gonna make the jump

1:23

to 4.0 for this project.

1:25

You can see here that that's over 75% of

1:27

the market, so we're still capturing a lot of devices.

1:32

It's not very hard to extend support to the older releases

1:34

either, so you can do that as extra credit if you'd like.

1:38

Anyhow, Android 4.0 corresponds to API level 14, so go

1:43

ahead select that as the minimum SDK. And then we'll select the latest SDK,

1:48

4.4.2 as the target and compile with settings.

1:53

Let's leave the theme and click Next.

1:55

I'm [UNKNOWN] custom launcher later, so I'm gonna uncheck this icon option.

2:00

Although feel free to play around with that if you'd

2:02

like, and make sure the create activity is still checked.

2:05

And click Next again.

2:06

Okay. Click Next for blank activity.

2:09

And on this screen, we're going to make an important change.

2:12

Anytime we add an activity to our project

2:14

using this built in wizard, we have the option of setting it's navigation type.

2:18

Often, we'll just leave it set to none like this,

2:20

but is we click on we can see some interesting options.

2:22

And we said a little while ago that we want our

2:24

app to have tabs for the main inbox and the friends view.

2:28

So we can create tabs from scratch if we want, but it

2:31

makes our jobs so much easier if we use one of these templates.

2:34

Let's select fix tabs plus swipe.

2:37

And then we'll talk through all the code that's

2:39

generated for us as we go along. So go ahead and click finish.

2:42

Before we do anything else, if you've just

2:44

installed the bundle for the first time or if

2:46

you're installing a completely new version, then we need

2:49

to create a new Android virtual device or avd.

2:53

So click on this button up here, the

2:54

little phone, this is the Android virtual device manager.

2:57

And here I already have two emulators on my computer,

3:00

but we're gonna click New to get a new one.

3:03

You can give it any

3:04

name you like.

3:05

I usually name mine corresponding to the API level.

3:09

And for the device, you can select anything here.

3:11

Here are some generic options, or if you want,

3:13

you can have it resemble one of the nexus devices.

3:17

The target, you can select one of the APIs you downloaded.

3:19

I'll select the latest, 4.4.2.

3:22

If there's a later version available when you're

3:23

watching this video, feel free to use that.

3:25

And I should have mentioned that when we created the

3:27

project too, feel free to use that as the Target and

3:29

Compile With settings if you'd like. Okay.

3:31

For now we can leave everything else as is.

3:34

Go ahead and click OK.

3:35

And the AVD now shows up in this list and we may as

3:38

well start it now so it's up and running when we need it.

3:40

So go ahead and select it and click Start.

3:42

We'll just let it get started in the background.

3:45

Click Launch, and there it goes, and close this window and it's still gonna run.

3:49

Okay, so there's one more thing I want to mention up front about this app.

3:52

We're going to write it to be used in portrait mode only.

3:55

That means we need to set a setting for portrait

3:58

mode only for each activity that we add to our project.

4:01

It would be really nice if there were a global setting, but whatever.

4:05

Anyhow, let's set it for this main activity

4:07

that was created with the project, and then

4:08

we'll just need to remember to set it for each activity that we add later on.

4:12

We set activities to portrait mode in the manifest.

4:14

So, open up androidmanifest.xml, and if we click on the application tab down

4:21

here in the lower left, we get a list of our activities.

4:24

If you select main activity, it brings up properties over here on the right.

4:28

And if we scroll down a little bit, we can find, I scrolled a little too far.

4:35

We can find setting called Screen Orientation in the drop down.

4:38

Go ahead and select portrait and save the changes here in the manifest.

4:43

Okay.

4:45

Now before

4:46

we go on, I wanna mention a third-party emulator that

4:48

works much better than the one that comes with the bundle.

4:51

It's called Genymotion, and I highly recommend checking it out.

4:55

Now we'll continue with the regular emulator throughout this

4:58

project, but I recorded a separate video about Genymotion.

5:01

That you can check out if you're interested.

5:03

Like Android Studio, if you decide to try it out and use it

5:05

for this project, you should be able to follow along without any trouble.

5:09

And if you do have trouble, well,

5:11

you know where to go, the forum.
You need to sign up for Treehouse in order to download course files.
Sign up