Bummer! This is just a preview. You need to be signed in with a Basic account to view the entire video.
The core of the application will require a book list. We will create a general listing of books with title and description.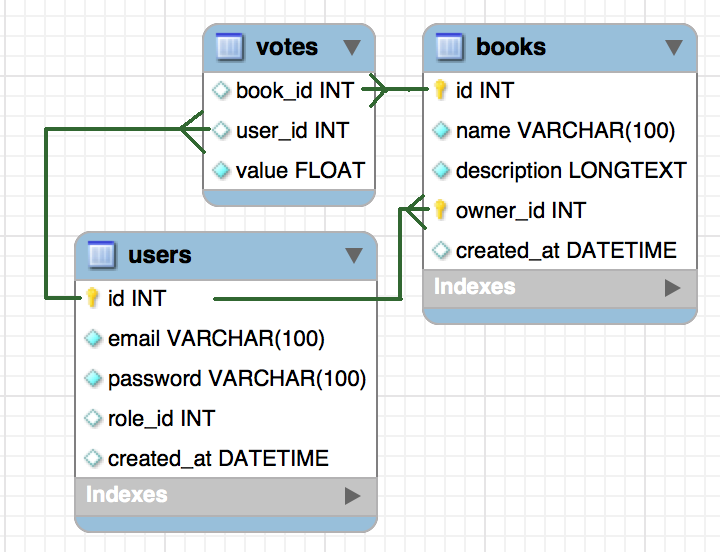 Additional Courses
Or if you want to get even more into SQL databases, try our Beginner SQL Track
Other Ways of Doing Things
Your can also access the global $db variable using the "super global"
You can redirect using the builtin header() function, but the HTTP Foundations redirect fails gracefully and we'll be adding cookies to this redirect a little later.
header('location: /books.php');



0:00

[MUSIC]

0:04

Welcome back.

0:05

Now that we have an understanding of some of the key features that we'll

0:08

be implementing,

0:09

we're ready to start building the functionality into our website.

0:13

We'll start with the ability to add books to our database.

0:16

I've already set up the basic formm as well as the connection to the database.

0:20

But you'll need to add the functionality to take the form data and

0:23

add it to the database.

0:25

After our form is processed, we'll need to send the user back to the book list and

0:30

display the list of books from the database.

0:32

We'll be using a package called HTTP foundations from symphony for

0:37

the HTTP requests and redirection.

0:40

We'll use Composer to manage this package.

0:43

For more information on forms, databases or composer,

0:46

check the notes associated to this video.

0:50

For this project, we'll be using Workspaces.

0:52

But you can also download the files and work locally if you prefer.

0:57

When you open Workspaces, you'll see that I have set up some of the base files for

1:02

us to begin.

1:02

Including a simple file for each of the main pages on our site.

1:07

I also created our main template.

1:10

I'm using a boot swatch theme, which is based on bootstrap.

1:13

This is only to give you something a little easier on the eyes, but

1:17

leaves plenty of room to make it your own.

1:19

In the inc folder, I've split out the head section, navigation and footer,

1:24

which we include on all our pages.

1:26

Now we need to create a form that a user can fill out

1:29

to add a book to our database.

1:32

Inside the inc folder, I've created a basic form with the fields we'll be using.

1:36

Let's open add.php and include that form on our page.

1:50

BookForm.php.

1:54

Besides including the book form file, we also need to add our form tags.

2:17

Method = post.

2:22

And we'll post the form to procedures addBook.php file.

2:38

We're going to be using the Symphony HTTP Foundation

2:41

package that I've already added for you in a composer.json file.

2:46

This package will give us a lot of great features

2:49

that I'll introduce to you as we need them.

2:52

To install this package into your project,

2:54

you'll need to open up the console in your workspace.

3:00

Type composer install.

3:10

Once our packages have installed, we can close the console.

3:17

I've also set up a little helper in the functions.php file.

3:21

This helper gets the current request called request,

3:24

which just creates a new Symphony request object where we can get posted data.

3:30

In order to use these, we'll need to set up a few things.

3:33

So let's create a Bootstrap file where we can add all the things that we need.

3:48

Require once.

3:54

Vendor/autoload.php.

4:07

We also need to include our functions.

4:12

I've also included a connection file which gives us a PDO connection to our database

4:17

through a variable named db.

4:19

Check the notes associated with this video for

4:22

more details on creating the connection.

4:24

Let's require that file here as well.

4:34

Now we can include a single file on a page but have access to everything we need.

4:39

Let's go ahead and create the addBook file in our procedures folder.

4:52

We start by including our bootstrap file at the top.

5:05

After this, we can now get the title and description from the request object.

5:14

Request, get (title).

5:20

And for our bookDescription,

5:25

request get description.

5:31

Now we're set to work with the database.

5:34

I've created all the tables that we need in this course.

5:38

If you want more information on databases in general or this database in particular,

5:43

you can find more information in the notes associated with this video.

5:46

Let's create a function in the functions file.

5:53

We want to be able to add a book.

5:57

This function should accept two parameters, the title and the description.

6:06

We need our db variable from the connection file.

6:09

We'll need this variable in a lot of our database helper functions.

6:13

Using globals is one of the few ways to do this and for

6:16

our use case, it will be the most basic way.

6:19

To do this, we use the keyword global followed by our variable.

6:25

When we set up our connection to the database,

6:28

the db variable was set on the global scope, which makes it available anywhere.

6:33

However, because we're now inside of a function, we need to tell that function

6:38

to look in the global scope to find the variable db so that we can use it.

6:43

Our book requires one more field, an ownerId.

6:48

We'll fill this out later but for now let's just set it to 0.

6:53

We'll be using prepared statements to add our book to our database and

6:56

we'll wrap our statement in a try catch block.

7:12

Let's re-throw the exception.

7:21

For our query, we're going to INSERT INTO books.

7:28

Name, description and

7:32

owneR_ID And then our VALUES.

7:38

Instead of using the question mark symbol for

7:40

numbered placeholders, we'll use named placeholders.

7:45

Starting with a colon, we call this name,

7:50

description, and ownerId.

7:58

Now we can prepare our statement.

8:08

Next we bind our variables.

8:17

Name = title.

8:21

Description =

8:27

description.

8:37

And ownerId = ownerId.

8:44

And finally, we can execute our statement and return the results.

8:53

Now we can use this new function in our add book procedure.

8:57

We're going to wrap this in a try/catch block so

9:00

that we can redirect back to the add page.

9:18

NewBook, bookTitle,

9:24

and bookDescription.

9:32

For the redirection,

9:34

we use some of the features of the Symfony HTTP Foundation's package for responses.

9:56

Using the response create method from the Symphony package accepts three properties.

10:02

The first of these properties is the body of the response.

10:06

This can be of mixed type.

10:07

For our case, we do not need to return any data inside the body.

10:12

So we can just return null.

10:15

The second of the properties is the HTTP status code.

10:20

Also part of the Symphony package is a list of status codes that can be used in

10:24

the form of a word instead of the magic number.

10:28

Numbers that may not mean anything to us when glancing over the code.

10:31

For our redirect status code, we could put a 302.

10:35

But why not be explicit when stating it by just saying, HTTP_FOUND?

10:45

Meaning that the page was found.

10:47

We can use this with a Symphony component.

10:59

The last property is the headers.

11:01

For our redirect to work,

11:02

we need to tell the browser where to go with a Location header.

11:12

We'll redirect to books.php if our book was added.

11:20

We then need to add response, send and exit.

11:27

If we catch an exception, we'll redirect to the add.php page.

11:31

So let's copy these three lines.

11:39

Let's open a browser and add a book.

11:52

Because we're redirected to the books.php page, we know that the book was added.

11:57

But we still need to pull the books from the database to display on

12:00

the book's page.
You need to sign up for Treehouse in order to download course files.
Sign up