Heads up! To view this whole video, sign in with your Courses account or enroll in your free 7-day trial. Sign In Enroll
Column and Bar Charts
8:27
with AJ Tran
Column and bar charts are both used to compare data across different categories. Rectangles represent values.
Accessibility
Tips for writing alternative text
More accessibility tips for Google Sheets
GDP (Per Capita) vs. Country - Central America 2020
Panama and Costa Rica have the largest per capita GDP compared to the rest of the Central American Countries.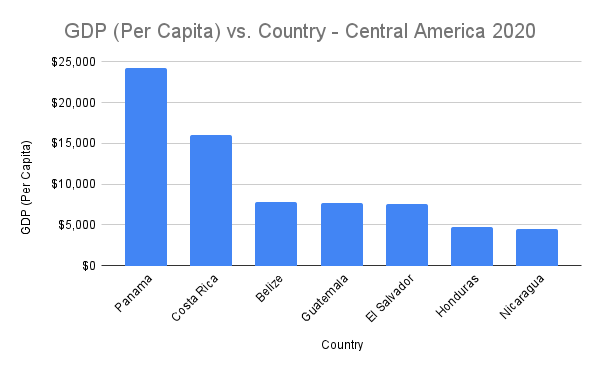 Population vs. Country - Central America 2020
Guatemala has nearly twice the population of the next largest country, Honduras. Belize is the least populated Central American country.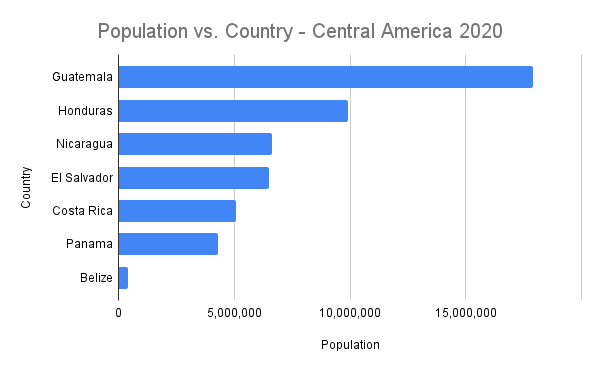 Column and bar charts are similar to each other.
0:00
They both are often used to make visualizations that compare data across
0:03
different categories.
0:07
Rectangles represent values.
0:10
In a column chart, the rectangles are vertical.
0:13
Since they go up and down, a column chart can be used to describe negative numbers.
0:16
In a bar chart, the rectangles go left to right horizontally.
0:22
Bar charts have more room to label different categories.
0:27
Let's make some column and bar charts.
0:32
In the Central America dataset, there are four columns, for
0:35
country, population, GDP per capita, and GDP total.
0:40
GDP stands for gross domestic product,
0:46
it represents the economic output for a country in a given year.
0:49
GDP per capita is a rough indicator of living standards.
0:54
It represents the amount of money each person in the country would have if
0:59
the nation's wealth were equally distributed.
1:03
What are the differences between these countries' populations?
1:06
We can quickly visualize an answer to this question with a column chart.
1:11
I'll need data from column A for country and column B for population.
1:15
I can click the header for column A to select all of the countries.
1:22
Then I can choose a different column by clicking while holding down
1:28
the Ctrl key for PC, or Cmd key for Mac.
1:33
Next in the menu bar, I'll go to Insert and click on Chart.
1:39
And right away, I get a column chart.
1:50
Google Sheets will provide you with sensible defaults based on the data that
1:54
you select to make a chart from.
1:58
But in case your chart is different than mine right now,
2:01
you can select a different chart type from the Chart editor.
2:03
Click on the Chart type dropdown and scroll down to select Column chart.
2:07
Now we are ready to customize the chart to create a more impactful visualization.
2:15
For instance, it's hard to tell which country between Nicaragua and
2:21
El Salvador has a higher population.
2:25
We can sort the data series in ascending order, smallest to largest,
2:28
to clean up our column chart.
2:32
First, I'll move my chart out of the way by clicking and dragging it.
2:35
Then I'll deselect columns A and B by clicking away from those columns.
2:42
Now I can right click on column B, and select Sort sheet from A to Z.
2:48
And it will rearrange the data series based on ascending population,
2:56
from smallest to largest.
3:01
And now I can tell from the chart that Nicaragua has a higher population than
3:03
There are a few more customizations we can make.
3:09
In our dataset, there are only seven countries.
3:13
But you can imagine that if we had twice as many countries, the labels along the x
3:16
axis on the bottom would be more hard to read due to crowding.
3:21
I'll click on the chart and then on the options menu,
3:26
that's the three vertical dots in the top right corner.
3:28
For larger datasets, you would prefer to use a bar chart.
3:38
A bar chart has more room for labels that are easier to read.
3:42
So let's switch over to that.
3:46
In the Chart editor Setup tab,
3:48
I can open the dropdown menu to select a different chart type.
3:50
And you see that Google Sheets makes suggestions with both column and
3:54
These are the sensible defaults that I was referring to earlier.
4:00
You might see different suggestions than I do right now, and that's okay.
4:03
All of the different chart types can be found here in this menu.
4:07
Let's scroll down and select the bar chart.
4:11
Now let's go back to column B.
4:17
I'll close my chart editor and click and drag my chart so
4:20
that I can see the data in column B.
4:24
Let's sort in descending order.
4:28
I'll right click and sort the sheet from Z to A.
4:31
This places the visual emphasis on the most significant values near the top of
4:35
the bar chart for ease of reading.
4:40
I can immediately notice that Guatemala has nearly twice the population of
4:43
the next largest country, Honduras.
4:47
And Belize is the least populated Central American country.
4:50
This chart could be better with a title that is more informative and
4:55
I'll double click on the chart title to open the Chart editor, and
5:01
it opens the Customize tab for the chart title.
5:05
First, I'll edit the title to add the name of the dataset,
5:09
Population vs Country - Central America 2020.
5:16
Then in the Title format section,
5:21
I can click the dropdown for alignment to center the text.
5:25
If you want to change the color of the rectangles,
5:36
go to the Series section of the Customize tab.
5:41
From here, change the Fill color from Auto to one
5:47
that has a high contrast with the background.
5:51
That's a nice chart!
5:56
So our chart is nice and easy to read.
5:59
But there's one more thing we need to do to make sure that everyone can read it,
6:02
including people with disabilities.
6:05
The charts that we're creating are actually saved as images.
6:08
Screen reader users who access our sheet will just hear chart by default.
6:12
And that's not really helpful to learn about what's going on with our data.
6:17
So we're going to include some alternative text to help them out.
6:22
On our chart's option menu, the three vertical dots,
6:26
open the dropdown and select Alt text.
6:31
In the pop-up window, add a title.
6:35
Since we have a descriptive title already, let's copy that here.
6:39
Population Vs Country,
6:43
Central America, 2020.
6:48
For the description, we'll provide a summary of the trend.
6:53
Imagine trying to tell somebody about this chart over the phone.
6:57
What are one or two takeaways that can help them quickly understand some key
7:02
insights into the data?
7:05
What are the areas of strong visual emphasis that can be shared as text?
7:08
Earlier I said that Guatemala has nearly twice the population of
7:14
the next largest country, Honduras.
7:18
And Belize is the least populated Central American country.
7:20
So let's use that information in our alt text description.
7:24
I've included some resources in my teacher's notes about how to write good
7:29
alternative text and additional accessibility tips for Google Sheets.
7:33
Make sure to check them out, they're very good pointers.
7:38
You can also copy and paste my titles and descriptions from the teacher's notes.
7:42
Now you try, make a column or bar chart using the Central America data set.
7:48
There are two more columns, for GDP per capita and GDP total.
7:54
Try making a bar chart for one and a column chart for the other.
8:01
Which format is easier to read for which data?
8:06
Remember to include a descriptive title that can be reused in
8:09
the alternative text.
8:13
After you are done practicing, check out my teacher's notes for
8:15
examples of the charts that I made for this data set.
8:18
Then in our next video, we will learn about line charts.
8:21
I'll catch you there.
8:25
You need to sign up for Treehouse in order to download course files.
Sign up