Welcome to the Treehouse Community
Want to collaborate on code errors? Have bugs you need feedback on? Looking for an extra set of eyes on your latest project? Get support with fellow developers, designers, and programmers of all backgrounds and skill levels here with the Treehouse Community!
Looking to learn something new?
Treehouse offers a seven day free trial for new students. Get access to thousands of hours of content and join thousands of Treehouse students and alumni in the community today.
Start your free trial
fadhil suhendi
7,680 Points
Android fullscreen theme error
I tried to get rid of the action bar on the android layout. I followed the same step as the video. However, I got an error says that,
"Rendering Problems Missing styles. Is the correct theme chosen for this layout? Use the Theme combo box above the layout to choose a different layout, or fix the theme style references."
<resources>
<!-- Base application theme. -->




<

style

 

name

=

"AppTheme"

 

parent

=

"Theme.AppCompat.Light.NoActionBar"

>


    

<!

--

 

Customize

 

your

 

theme

 

here

.

 

--

>




</

style

>



</resources>
1 Answer

Harry James
14,780 Points
Hey there fadhil!
Can you make sure that you are in fact using the correct theme? If you go to your activity in the Design View, make sure that it says AppTheme at the top here: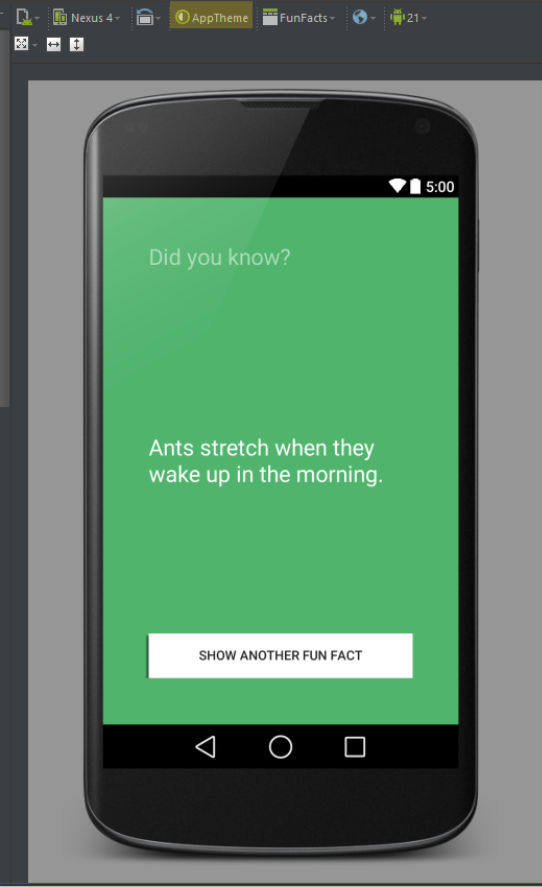 If not, be sure to change it to AppTheme! Then, everything should work ok!