Welcome to the Treehouse Community
The Treehouse Community is a meeting place for developers, designers, and programmers of all backgrounds and skill levels to get support. Collaborate here on code errors or bugs that you need feedback on, or asking for an extra set of eyes on your latest project. Join thousands of Treehouse students and alumni in the community today. (Note: Only Treehouse students can comment or ask questions, but non-students are welcome to browse our conversations.)
Looking to learn something new?
Treehouse offers a seven day free trial for new students. Get access to thousands of hours of content and a supportive community. Start your free trial today.
Francesco Gambardella
2,094 Points
Cannot calculate the value min and/or max, I get 0.00.00
I am using Google Sheet, selecting all the times and then paste the interval on the Summary Sheet bu I get 0.00.00
1 Answer
I've seen this issue come up a few times in the questions here so I'm posting this to those I feel might be relevant to this answer. I hope my solution helps.
From what I've gathered, either the number formatting gets changed for some of us or a mysterious apostrophe is placed in front of the numbers in the cells with numerical values (this is what happened to my dataset) when they're imported from the CSV file. This may be from unchecking the "Convert text to numbers, dates, and formulas" box. Leaving that box checked may prevent all of this.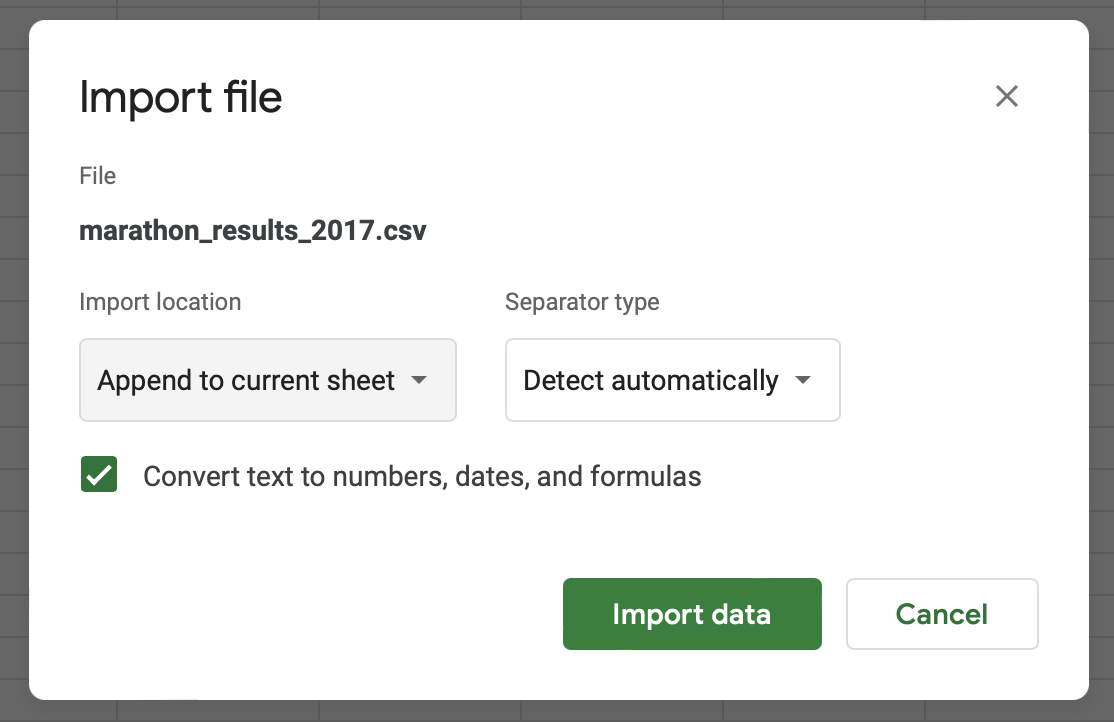 If you're already past that point, keep reading below.
You may need to adjust the cells under the "5K, 10K, Official Time, etc.." column to the "Duration" setting in the "Number" section in the "Format" toolbar.
I also had the apostrophe problem with the values under "Bib, Age, Overall, Gender, Division", and reformatted them to use the "0" Number setting to remove the unwanted apostrophe.
This video helped me understand the apostrophe issue.
As the previous lessons had mentioned, we must make sure to validate and clean our data to prevent issues like these. Best of luck everyone!