Welcome to the Treehouse Community
The Treehouse Community is a meeting place for developers, designers, and programmers of all backgrounds and skill levels to get support. Collaborate here on code errors or bugs that you need feedback on, or asking for an extra set of eyes on your latest project. Join thousands of Treehouse students and alumni in the community today. (Note: Only Treehouse students can comment or ask questions, but non-students are welcome to browse our conversations.)
Looking to learn something new?
Treehouse offers a seven day free trial for new students. Get access to thousands of hours of content and a supportive community. Start your free trial today.
Do the videos have a way of being in any lower resolution? I have a slow internet connection.
I have a slow internet connection that won't play the videos right, are these available in lower resolution?
2 Answers
William Li
Courses Plus Student
26,865 Points
Below the lecture video frame, there's a Download tab, You can download the Standard definition MP4 to your local computer and watch it with or without the internet connection.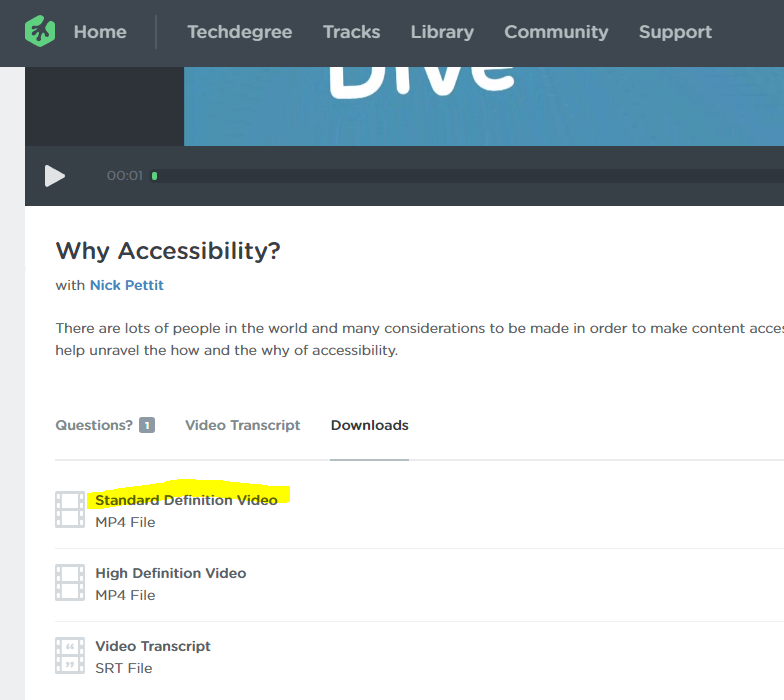 Jason Anders
Treehouse Moderator
145,624 Points
Hi Leah. Welcome to Treehouse
Unfortunately, there is not a way to lower the resolution to watch the videos. Sorry.
To clarify William's response, you do need to have the Pro Subscription plan in order to view videos offline (and you must be off the Free-Trial). I see you have only the Basic plan and are still on the Free-Trial, so you will no be able to download videos.
The videos you watch online are already in Standard Definition, so I'm not sure if being able to download the videos, which would require you to upgrade your subscription, would be of any difference for you.
One hint I can offer... if you start the video, then hit pause for a few minutes to allow the video to buffer a bit more, this should help with the start and stop effect while watching.
I hope it works out for you!
Keep Coding! :)