Welcome to the Treehouse Community
Want to collaborate on code errors? Have bugs you need feedback on? Looking for an extra set of eyes on your latest project? Get support with fellow developers, designers, and programmers of all backgrounds and skill levels here with the Treehouse Community!
Looking to learn something new?
Treehouse offers a seven day free trial for new students. Get access to thousands of hours of content and join thousands of Treehouse students and alumni in the community today.
Start your free trial
Joseph Wagner
Android Development
Techdegree Graduate
27,137 Points
Firebase - Reading Data
My data structure:
I'm having trouble reading values from Firebase. If I delete the timelog child then it seems as if Users is the root of the datasnapshot and it will function if I remove users like this:
uInfo.setFirstName(ds.child("yAnJF2IWhvTmJBWYY6FL6g7CzKB2-001").getValue(UserInfo.class).getFirstName());
I keep getting a null pointer exception if I try to access like I'm currently doing. How can I access the values from TimeLog?
Here's the data structure.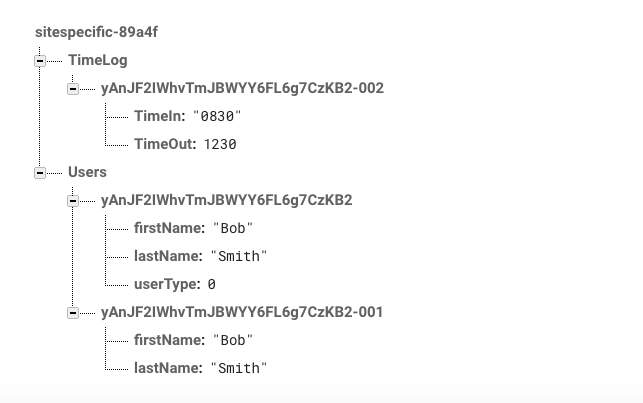 private void showData(DataSnapshot dataSnapshot) {


        for(DataSnapshot ds : dataSnapshot.getChildren()){


            UserInfo uInfo = new UserInfo();


            uInfo.setFirstName(ds.child("Users/yAnJF2IWhvTmJBWYY6FL6g7CzKB2-001").getValue(UserInfo.class).getFirstName());





            String firstName = uInfo.getFirstName();


            welcome.setText("Hello there " +firstName);


        }


    }