Welcome to the Treehouse Community
Want to collaborate on code errors? Have bugs you need feedback on? Looking for an extra set of eyes on your latest project? Get support with fellow developers, designers, and programmers of all backgrounds and skill levels here with the Treehouse Community!
Looking to learn something new?
Treehouse offers a seven day free trial for new students. Get access to thousands of hours of content and join thousands of Treehouse students and alumni in the community today.
Start your free trial
Chris Freeman
Treehouse Moderator
68,332 Points
GitHub quiz on GitHub Pages Review no correct answer
On this Quiz, for the question:
When you create a project Pages site, what branch should you push your site to?
The choices are:
Either answer is graded as "wrong". No "correct" choice is available.
Failing image: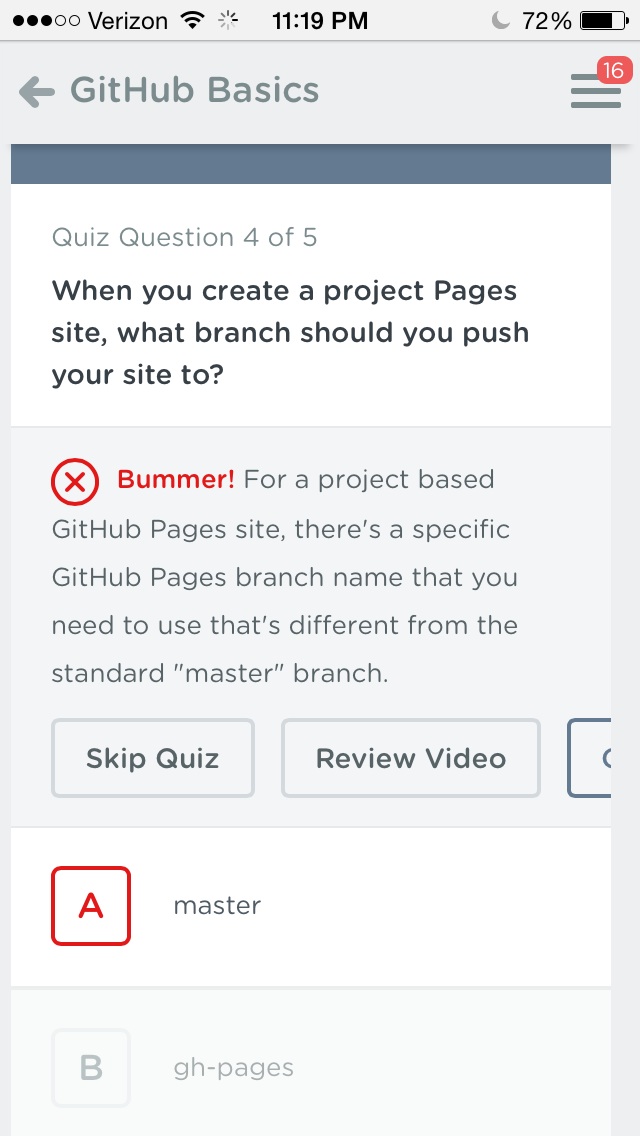 Failing image #2
Tagging Kyle Daigle and Alyson La
3 Answers
Elizabeth Kozup
5,223 Points
Whoops! Thanks for catching that, Chris! I've fixed the bug and the test should let you pass. Thanks for your help!
Kyle Daigle
Treehouse Guest Teacher
Hey Chris! Let me reach out to the team at Treehouse and see if we can't get this fixed for you. Sorry for the trouble!