Welcome to the Treehouse Community
The Treehouse Community is a meeting place for developers, designers, and programmers of all backgrounds and skill levels to get support. Collaborate here on code errors or bugs that you need feedback on, or asking for an extra set of eyes on your latest project. Join thousands of Treehouse students and alumni in the community today. (Note: Only Treehouse students can comment or ask questions, but non-students are welcome to browse our conversations.)
Looking to learn something new?
Treehouse offers a seven day free trial for new students. Get access to thousands of hours of content and a supportive community. Start your free trial today.
Chase Van Blair
2,400 Points
gradle launch error
when i try to run app it shows Error:A problem occurred configuring root project 'FunFacts'.
Could not resolve all dependencies for configuration ':classpath'. Could not find any version that matches com.android.tools.build:gradle:0.12.+. Required by: :FunFacts:unspecified
1 Answer

Harry James
14,780 Points
Hello there!
Could you please open your build.gradle file and make the following change:
// (-) DELETE THIS LINE: classpath 'com.android.tools.build:gradle:0.12.+'. Replace with below line \/




classpath

 

'

com

.

android

.

tools

.

build

:

gradle

:

0.12.0

'



If you are still having issues, try Invalidating Android Studio's caches. To do this, click on the File tab then Invalidate Caches / Restart and press Invalidate and Restart: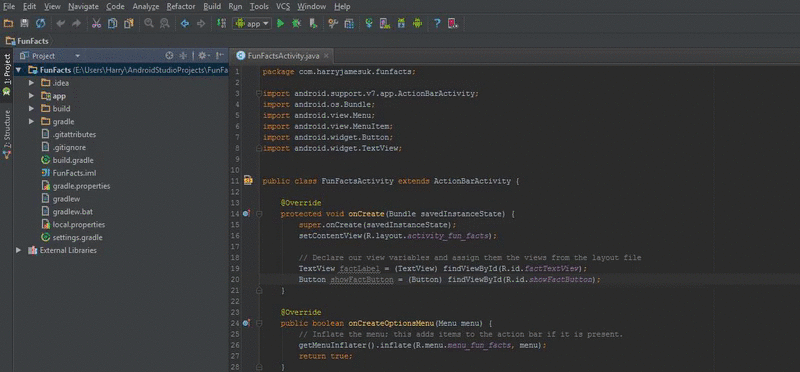 This should fix your problem but if it doesn't, please paste your build.gradle contents onto here and I'll take a look :)