Welcome to the Treehouse Community
Want to collaborate on code errors? Have bugs you need feedback on? Looking for an extra set of eyes on your latest project? Get support with fellow developers, designers, and programmers of all backgrounds and skill levels here with the Treehouse Community!
Looking to learn something new?
Treehouse offers a seven day free trial for new students. Get access to thousands of hours of content and join thousands of Treehouse students and alumni in the community today.
Start your free trial
How to embed image to a forum post
Can someone tell me how to take a screen shot of the material I am working on, then how to post it or paste it to a question in this forum. This will help me to clarify my questions so people can actually see the code I written. Thanks
3 Answers
William Li
Courses Plus Student
26,867 Points
To take a screenshot on a Mac, we can use the following keyboard shortcuts.
Command + Shift + 3, take a full screenshot of your entire display.
Command + Shift + 4, allow you to drag a rectangular area for screenshot.
Command + Shift + 4, then press the Space bar, now it'll let you select an application Window to take a screenshot off.
All screenshot images are saved onto your Desktop in PNG format.
Now you have a PNG, but you can't upload to the forum for posting just yet. Your image need to be hosted on a image site first. There're plenty of choices to go with here, but I like http://imgur.com/ best. From imgur's homepage, Click the Upload Image button on the top then drag and drop the image there to upload.
Once the image is uploaded, you'll be redirected to this page.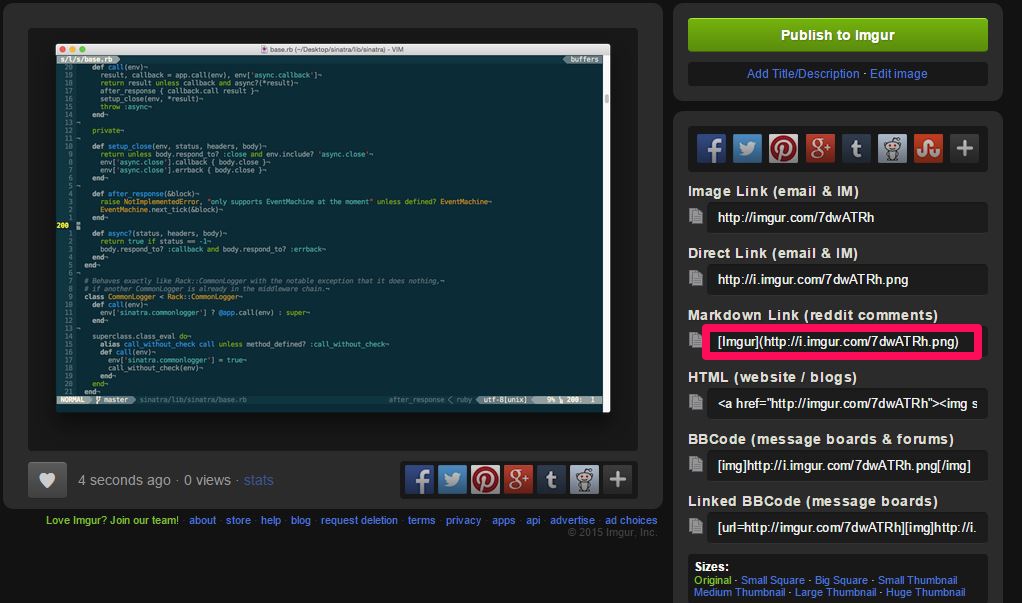 There're several links listed on the right; the one of interest here is Markdown Link (reddit comments), so copy that link.
To embed an image to your forum post, you first need to type an exclamaton mark !, followed by the link you just copied over from imgur.com. Like such
![Imgur](http://i.imgur.com/pQyS5Yv.jpg)

That's pretty much it. Hope you find it useful, and please give it a try.
ok I will give that a try, one more thing. How do I take this information and transfer it to the treehouse forum? Would I just cut link and paste it into the treehouse forum?