Welcome to the Treehouse Community
Want to collaborate on code errors? Have bugs you need feedback on? Looking for an extra set of eyes on your latest project? Get support with fellow developers, designers, and programmers of all backgrounds and skill levels here with the Treehouse Community!
Looking to learn something new?
Treehouse offers a seven day free trial for new students. Get access to thousands of hours of content and join thousands of Treehouse students and alumni in the community today.
Start your free trial
i cant find the website styles.css and index.html
i cant find the website styles.css and index.html
2 Answers
Hi Oliver,
When you're watching a video you may (or may not) be prompted to open the associated work space. To do that simply click the "Launch Workspace" button at the bottom right of the video player.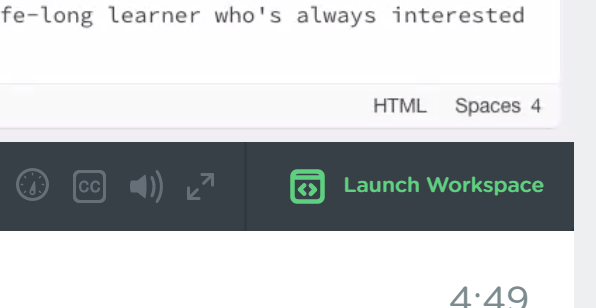 Once you've done that, you'll notice the work space will open in it's own framed window. If you don't see this, check that your browser is not blocking it as a popup.
From there on the left hand side of the work space you will see a list of files. Select the file you want to edit or view on the left. You should then see the file open in the work area on the right.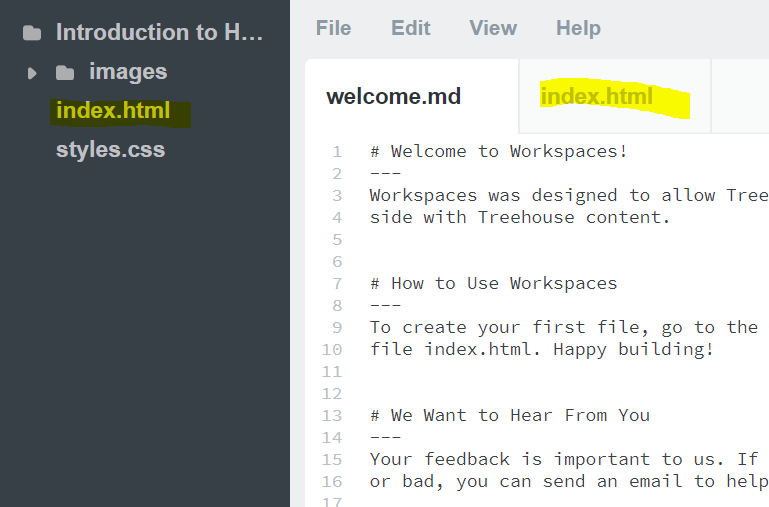 I hope this helps.
Images I Shared: Imgur
muhammed bekir kabasakal
Courses Plus Student
171 Points
unfortunatelly, I deleted the index.html file Which I created. now there is a blank page when I open a new index.html. is there any way to recall the first index.html file?