Welcome to the Treehouse Community
Want to collaborate on code errors? Have bugs you need feedback on? Looking for an extra set of eyes on your latest project? Get support with fellow developers, designers, and programmers of all backgrounds and skill levels here with the Treehouse Community!
Looking to learn something new?
Treehouse offers a seven day free trial for new students. Get access to thousands of hours of content and join thousands of Treehouse students and alumni in the community today.
Start your free trial
I'm work with lists in arrays, and I need to add an item.
This is a 3 part question I got the other 2 parts correct, its just the last part I wrote I couldn't get correct, I wrote what I thought it should be, here is a screen shot, tell me what you think. Thanks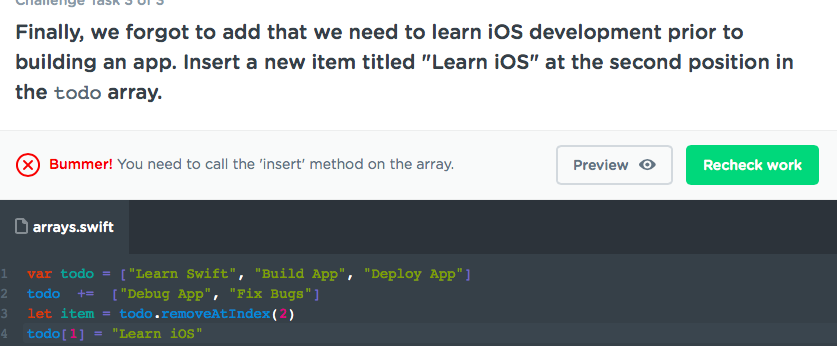 2 Answers
If you want to add more items to an array, you just need to call .insert method for example
      var name = [String]()


      name.insert("My_Name", atIndex: 0)

So now the name array has a new item at index 0. Hope that helps
Ok I voted it the best answer. So I write "@"MeekD and where where exactly do I write this. Plus did I write it correctly??