Welcome to the Treehouse Community
Want to collaborate on code errors? Have bugs you need feedback on? Looking for an extra set of eyes on your latest project? Get support with fellow developers, designers, and programmers of all backgrounds and skill levels here with the Treehouse Community!
Looking to learn something new?
Treehouse offers a seven day free trial for new students. Get access to thousands of hours of content and join thousands of Treehouse students and alumni in the community today.
Start your free trial
Chris Malcolm
2,909 Points
IOS customizing TextView
Hi I am a novice but have an Idea for an application that would require a textview customized. I've watched ios app tutorials here, but they use basic functionality of textview.
For simplicity, what I want to do is kind of detect line breaks (\n) and display feedback on that current line (perhaps on key up events), in this case its just displaying the line number.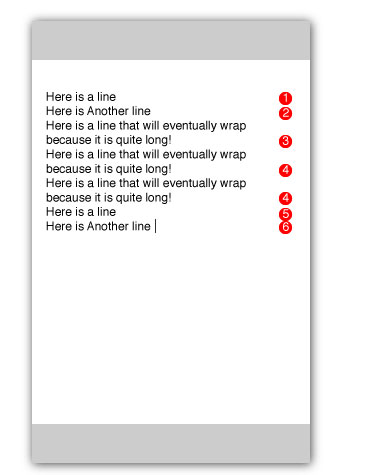 Is there any resources / tutorials that a more experienced ios programmer might be able to point me to? Im having a difficult time pinpointing a decent tutorial on this.
1 Answer
Nicholas Vandenbroeck
4,599 Points
You should probably subclass the UITextView class and override/add some methods and probably add some properties.