Welcome to the Treehouse Community
Want to collaborate on code errors? Have bugs you need feedback on? Looking for an extra set of eyes on your latest project? Get support with fellow developers, designers, and programmers of all backgrounds and skill levels here with the Treehouse Community!
Looking to learn something new?
Treehouse offers a seven day free trial for new students. Get access to thousands of hours of content and join thousands of Treehouse students and alumni in the community today.
Start your free trial
Is it possible if I can start my Web design track over?
Hello, I am having some trouble with my web design track. I would like to start over, but it does not allow me. I do not mean going back to my hourly lesson. I mean from scratch. I had to switch to wordpress, in which I do mind continuing, but I would like to go back and finish the web design track.
Let me know, if this is possible.
3 Answers
Greg Kaleka
39,019 Points
Unless I'm missing something in your question, you just need to go to Tracks and click the "Switch" button on the track you want.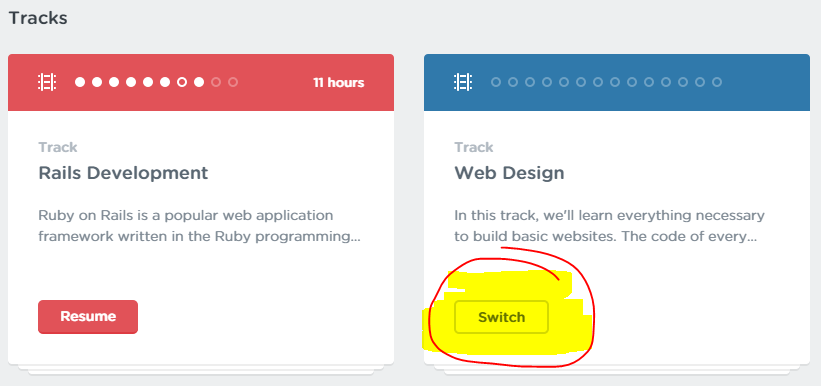 georgekiknadze
Courses Plus Student
6,307 Points
I think it's not possible and it's really sad, because I already wanted to start from scratch and I couldn't.
Raymon Oleaga
19,298 Points
In my experience you can switch tracks as many times as you want, and if you want to start from "scratch" just re-watch the videos..... I don't think their is a way to delete a track progress but I font see why you would want to do that when you can just watch the videos as many times as you need.