Welcome to the Treehouse Community
Want to collaborate on code errors? Have bugs you need feedback on? Looking for an extra set of eyes on your latest project? Get support with fellow developers, designers, and programmers of all backgrounds and skill levels here with the Treehouse Community!
Looking to learn something new?
Treehouse offers a seven day free trial for new students. Get access to thousands of hours of content and join thousands of Treehouse students and alumni in the community today.
Start your free trial
Brian Hayes
20,986 Points
My first big JavaScript Object Literal, all by myself.
Not a question, but just showing off a bit since I've been taking the Full-Stack JavaScript track for a while here. I ended up having to take a break for a project though, but without meaning to, I ended up putting a ton of what I've learned into practice on the frontend to achieve a cool background effect that just wouldn't work using SVGs.
I did this by using a decent bit of trig (for me anyway), and rotating wrapper divs. It took a lot more than I thought to take care of all the issues this causes.
This fixes all the height and width issues of rotated elements that come from the way CSS transforms work.
Also this will work with a Flexbox layout, or just a Block/Float layout.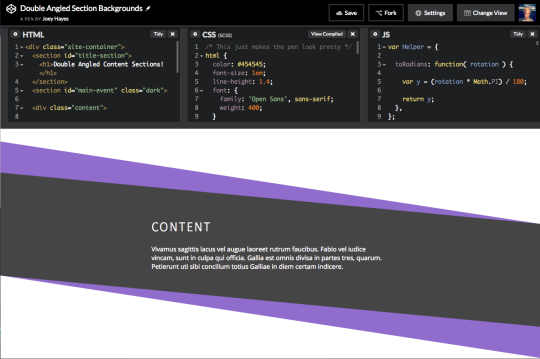 little side note: I've been adding to this thing since I posted it in the project I've implemented it in. I'll probably end up updating this CodePen as well with a little bit of the new code. The new code allows for removal and injecting of wrappers based on media queries so things that work better in columns on larger screen sizes don't look weird.
2 Answers
I've been studying HTML, CSS and JS for about 6 months now and I've developed a few websites here and there, but nothing that required any crazy patterns. I was really hoping to leverage the ease of SVG for those sort of problems. Shame to hear about the limitations. Also, good to know that there's a solution around it though. You did a great job! I saved your Codepen to come back to later and study it!