Welcome to the Treehouse Community
The Treehouse Community is a meeting place for developers, designers, and programmers of all backgrounds and skill levels to get support. Collaborate here on code errors or bugs that you need feedback on, or asking for an extra set of eyes on your latest project. Join thousands of Treehouse students and alumni in the community today. (Note: Only Treehouse students can comment or ask questions, but non-students are welcome to browse our conversations.)
Looking to learn something new?
Treehouse offers a seven day free trial for new students. Get access to thousands of hours of content and a supportive community. Start your free trial today.

Networking Wednesday (11/25) – Connect with other Treehouse Students!
Hey Treehouse Students!
Welcome back to another Networking session where you can make connections with other Treehouse Students! This week is Networking Wednesday due to the holiday. We'll be back to our regularly scheduled program next week with Networking Thursday! 😄
💬 How to participate:
Answer the icebreaker activity – How many tabs (+windows) do you have open right now in your browser? 🖥
Introduce yourself!
Share your LinkedIn profile URL for other students to connect to
Share links and/or screenshots of the projects you've been working on
Share your interests, hobbies, etc!
Chat with other students here by responding to their posts!
Make those connections, support each other, leave some endorsements/recommendations on other student's LinkedIn profiles, lend a helping hand to folx in search of work in tech, and give some positive feedback on fellow student's projects. We're all on this learning journey together!
---
I'll kick things off! 💬
I'm Ryan Mouser, the Content & Community Marketing Specialist here at Treehouse. My pronouns are he/him. I was 15 years old when I started learning to code in PHP for a popular text-based MMORPG game. I've been with Treehouse for over 2 years now and have had the amazing opportunity to wear many different hats. I've been learning with Treehouse since 2015 (you can check out my previous profile here).
Currently, I'm working alongside our world-class team on some exciting opportunities to bring the Treehouse Community closer together. Stay tuned! 😀
Outside of Treehouse, I have the joy of living life with my incredible wife, our 3 awesome kids, and our 2 cat furbabies. We love to make music, garden, cook, play games, and watch fun TV.
Grand total of tabs and windows in my browser... 26! 😱 It's early too... so better start closing some! 😆
You can connect with me on LinkedIn here. Looking forward to connecting with y'all!
Happy networking! :)
---
Check out the NEW Treehouse Festival merch! ❄️
Make your Treehouse Festival experience one to remember! Get your Treehouse Festival swag over at the Treehouse shop.
10 Answers
treyannis
Python Development
Techdegree Graduate
10,602 Points
Hi everyone,
My Name is Trey Annis, and I'm a student here at Treehouse, currently pursuing the Python techdegree. I've been familiar with Treehouse since high school and initially saw myself pursuing a developer role; however through some networking opportunities I landed a role as an engineer for a company called Tanium.
That being said, one of my passions in the tech industry is to code, and I found myself not doing code as much as being an operator of Tanium; ensuring the software worked, and working with the customer to ensure their success.
With this in mind, a big reason for my presence here is to continue pursuing that passion in code and finally working to develop the skills to be a great developer (and become holistically better in the tech industry; I've been told countless times knowing code and actually being able to write it well alongside everything else makes a techie even more effective). I came to Treehouse back in high school pursuing the web development learning tracks, but now as a Techdegree student, I'm totally open to seeing what many opportunities there are in the development world.
Here is my LinkedIn; would love to connect more with you all!
As of current I just started the curriculum very recently, so I'm about to begin the unit 1 project, the Number Guessing Game.
When I'm not coding or tinkering around, I'm often drinking good coffee, reading books, pursuing fitness, and spending time with my fiancée.
And for the icebreaker question, I have about six tabs open. Weak, I know!
Ryan Whitney
15,971 Points
Greetings All! Myself (I am an absolute minimalist when it comes to tabs) I only have 3 open at the moment; Gmail, Youtube, and Treehouse (basically three static tabs for me personally speaking)
My name is Ryan Whitney, I am a self-directed, community-educated Javascript Developer (in training). I've been in the professional working field for ~15 years and am pursuing software development as a career-ladder change. I will leave a link to my LinkedIn page below for anyone who would like to network, it'd be great to connect! https://www.linkedin.com/in/ryan-whitney-26215414/
Right now I am working on the FSJS TechDegree Curriculum, my wife and I are taking the course together and are really enjoying the journey. I'm so thankful she is patient with me when I am stuck on a coding problem or sit there staring vacantly while I'm working out a problem in my head for 15-20 minutes at a time.
I have (what this crazy year has allowed) an active, healthy lifestyle and very much enjoy exploring the PNW where we live here in the US, meeting and connecting with new folks, and learning along the way. I very much look forward to chatting with folks and please feel free to send me a DM on Slack, or on LinkedIn.
Take Care, Stay Safe & Keep Coding! :-D
Jason Nutt
Front End Web Development
Techdegree Graduate
24,760 Points
I'm Jason Nutt, a FEWD tech degree graduate and PHP/SQL student here at Treehouse. My pronouns are he/him. I was a career server and have been transitioning from that career due to health concerns with Covid-19 and protecting my step-son who has a compromised immune system due to autism. I've been studying diligently with Treehouse for about 9 months now and have applied for many entry level jobs as well as a Student Success Specialist here at Treehouse! Currently, I'm working on learning CRUD operations with php in the corresponding Treehouse track and watching "Understanding the weird parts of JavaScript" tutorial on Youtube. Treehouse has helped me to develop a culture of consistent learning and given me hope for my future.
Outside of Treehouse, I have a beautiful family including my wife Sharon, her Son Ian and our two little dogs (Cocoa and Pearl). We love listening to music, dancing, and watching our favorite shows (Stephen Colbert and Jimmy Fallon).
Grand total of tabs and windows in my browser... 8....So compared to Ryan I'm keeping it tidy lol.😆
Please connect with me on LinkedIn and let me know your a Treehouse student..https://www.linkedin.com/in/jason-nutt-0a43051ab/ Looking forward to connecting.
Shaun van Ardenne
Full Stack JavaScript
Techdegree Graduate
30,297 Points
Hello, I'm Shaun van Ardenne. I am currently working my way through the Full Stack tech degree after completing the Front End one. I have done so many things for work it's hard to mention them all, but I shall try. I have a bachelor's degree in History and Geography, I have been a professional trucker, warehouseman, chemical production worker, community library shipping/logistics guru, and customer service agent at different points in my life. None of the jobs I have had have ever given me the sense of fulfilment or growth I have craved since university. I found myself drifting aimlessly and when Covid-19 hit, the company I was working for had me working at home doing soul leeching busy work and came to the realisation that I needed to pursue a career that is versatile and allows me to do interesting and meaningful work even if it is from home.
My hobbies are mainly hiking, Linux desktop customisation (current obsession), and RPG and puzzle adventure video gaming.
If I am not coding or engaging in one of my hobbies, you will find me reading a good horror novel, or hanging with my amazing girlfriend either cooking something yummy or binging a good show!
I am loving the Treehouse experience and am hoping to meet some fellow coders who would be interested in either simply chatting or possibly working on projects with me in the future!
My tabs total is 3 currently. Clutter makes my head explode!
My LinkedIn is: https://www.linkedin.com/in/shaun-van-ardenne/
Personal website: https://www.eldritchwebdesign.ca/
Andy Qui Le
10,130 Points
Hello, everyone!
I'm Qui Le. I am currently learning the Flask REST API course. Personally, I recognize that I can still make more progress in terms of coding skills. So I am grateful to have a supportive community like Treehouse. You can find me here, LinkedIn, and leave a message so I know where we cross paths.
I am trying to be a more active Treehouse student. I hope that, by staying connected with other Treehouse students, I can be motivated to keep my studying more consistent. And it is always wonderful to have people to talk to and discuss all kinds of things in general. So I am really looking forward to making new friends!
Outside of coding, I enjoy writing a lot! It is one of the many outlets where I can express myself with others. Writing teaches me to remember what goes on in my life and to describe it in a clear and vivid way that people will understand my heart and mind. You can definitely come and read my stuff here when you have some free time.
As of now, I am having 11 tabs in my browser. I'm guilty for having a lot of tabs, but I try to keep them from getting out of hands!
I wish you and your family good times and good health!
Tyler Pfledderer
Treehouse Project Reviewer
Hello all!
My name is Tyler and I am a graduate of the Front-End Web Development TD. I am currently a store manager of a music retail corporate company, and I have been going through the process of seeking a career change as a web developer.
I currently have 4 tabs open: SiriusXM, Gmail, Github, and this. . . but only after I deleted 6 others :p
My LinkedIn Profile is here.
I'm currently working through the React track before I jump to the FullStackJS TD. But as a primary project for this track, I have been taking an existing project from the FEWD TD and converting it to React! Here is the code and the live build.
I am a classically trained musician with a Bachelor's in Music Performance on trumpet. I typically go fishing on the weekends (minus in the Winter time!) and have not had much else to do lately. Golf, Chess, and racing are other interests of mine.
Happy coding and Happy thanksgiving!

Cameron Childres
11,762 Points
Hey everyone! I'm Cameron, and I have 13 tabs open across 2 windows (which is pretty light for me, the day is young 😊). I usually range between 5 and 40 tabs at any given time -- less than 5 and my browser feels empty, more than 40 and I know it's time to take some action before I put more on my plate.
I'm currently working through the Full Stack JavaScript track after finishing Front End Web Development. I was living in Australia for the past few years working towards permanent residency but 2020 threw a wrench in my plans and I had to shift gears quickly. I returned to the states and decided now was a great time to build on some of the previous knowledge I had from an ecommerce support role.
I really enjoy engaging with the community here (it's become one of the first few tabs I open in a fresh browser). Even when I think I've already mastered a concept the process of answering a question might shine light on something I've overlooked, offer a fresh perspective, or help to reinforce previous learning. It's also serving as good practice on how to communicate about coding. Without having anyone to work with face to face I'm finding that especially valuable -- don't want to embarrass myself in an interview!
The project I'm working on right now is a "multiplayer hotseat" browser game inspired by the card-based board game Splendor. I landed on this as it feels just enough outside my skill level to give me a good push and a large enough project with clear goals that can properly showcase what I've learned. My computer is littered with small disjointed projects that will never see the light of day, it's time to buckle down and produce something that I'd be happy to put on a portfolio. Once I have more to show I plan to share it here in the community for feedback and then whip up a portfolio to start hosting my projects on.
Outside of coding my interests are widely varied. I've been a bee keeper, bike mechanic, biochem lab tech, living history reenactor, mountain unicycling instructor, fire spinning coach, hydroponics consultant, e-juice production lab manager, FPV drone builder/pilot, the list goes on... The common thread is learning things that pique my interest and sharing the fruits of that knowledge with others. One major thing that I'm loving about coding is that it can tie in to any interest or hobby that I have and that I can do it anywhere, as long as I have a laptop 😁. I'm looking forward to building something like this programmable LED staff once I have some more knowledge under my belt.
Adrian Brown
Python Development
Techdegree Graduate
14,496 Points

John Komarnicki
Front End Web Development
Techdegree Graduate
15,416 Points
Hey everyone! I'm John Komarnicki, a Front End Techdegree graduate. I'm currently working as a Jr developer at a design agency. This would not be possible without the knowledge the Techdegree gave me.
Currently i have 22 tabs open, which is about my normal amount. Developing all day, Google is my best friend!
I'd love to connect with other students on LinkedIn: https://www.linkedin.com/in/john-komarnicki/
In my free time, I've recently been starting to create content/videos for web development on YouTube. Mainly content with HTML, CSS and JS. It has been something that has been a big passion since starting web development! I'd love it if Treehouse students would check out my channel! I'd hope i can help some of you learn something new or even challenge yourself to complete the projects i do. You can view my channel here: https://www.youtube.com/channel/UCr0D7PVNOHqB3Td7lVl_LKw
Matt Coale
Full Stack JavaScript
Techdegree Graduate
17,883 Points
Hey All,
Nice to meet you. I'm Matt.
I discovered and have been using Treehouse since 9/2020 and hit the ground running on the FSJS track. I've been enjoying learning on Treehouse since day 1. I literally (as of today) have one course left on the FSJS track before completion and fully intend to go for the Techdegree.
I would love to connect and get to know some of you better! https://www.linkedin.com/in/matt-coale/
I have three tabs open right now: email, Google Sheets, and Treehouse. I typically have between 2 and 5 at any one time, but depends on what I'm doing and how many browser windows I've got open for learning, etc...
Honestly I have put many of my personal projects on hold to pursue learning JS. One project I started recently is setting up my new website (blog) where my portfolio will (eventually) live backyarddev.io. Right now I'm just trying to get information up there.
One of the many projects I've been working off and on on (bad grammar I know) is a little working-title arcade game that is a spin-off of Pixel Ranger. The wife gave me a challenge so I had to see what I was made of.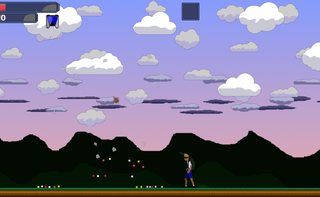 It's still a work in progress.
My main hobby is making things. I started work on a bulldozer robot a while back to help with snow removal. Though I have had difficulty with the design along the way, It's something I'll surely be modifying and upgrading for years to come.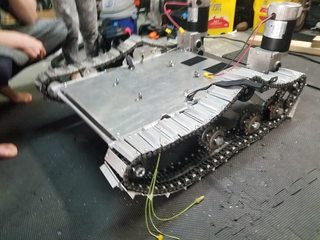 welded aluminum, a lot of machine screws. Caterpillar tracks are made of roller chain and aluminum pads. The current brain is an Arduino ATMega 2560 microcontroller, for those interested. Considering this design a prototype and it actually worked when I put it to the test... for about 30 seconds! :)
Some of my other hobbies are learning new skills (Treehouse, Udemy, books, etc.), playing music, game design, and computers in general.
Again, I hope to connect and get to know some of you better!
Cheers! Matt