Welcome to the Treehouse Community
The Treehouse Community is a meeting place for developers, designers, and programmers of all backgrounds and skill levels to get support. Collaborate here on code errors or bugs that you need feedback on, or asking for an extra set of eyes on your latest project. Join thousands of Treehouse students and alumni in the community today. (Note: Only Treehouse students can comment or ask questions, but non-students are welcome to browse our conversations.)
Looking to learn something new?
Treehouse offers a seven day free trial for new students. Get access to thousands of hours of content and a supportive community. Start your free trial today.
Not seeing what video is showing
When I follow the steps, which are painstakingly explained in the video, I do not see the same things the video is seeing. It's possible I have a newer version, but I can't even get my Android Studio to run the blank app. What's going on?
5 Answers

Harry James
14,780 Points
Hello again Jason!
Ok. I know what screen you're on when it says "No files are open". To get files open like Ben has, you can navigate to app >> java >> com.yourpackage.name >> MainActivity like I have here:

---
You should however, also be able to run your app. To do this, click the Run button on the top toolbar (I know, there's a lot there!). It looks like a play button:

After clicking this, you may be prompted which device you want to run your app on. Select your current emulator or open a new one if you haven't got one open yet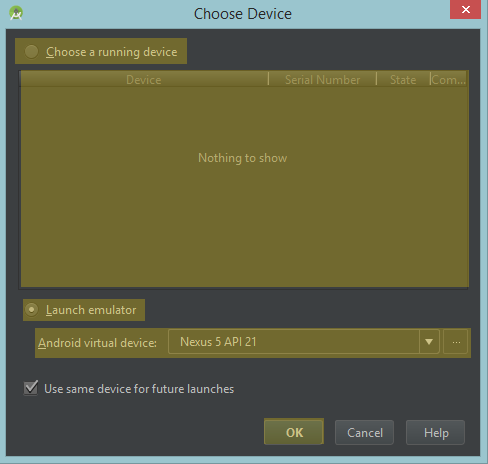 If you don't have any emulators yet, you can create one by clicking on the ... button on the above screen and then clicking Create Virtual Device:

After that, select the device you want to use as the emulator (I'm going to use the Nexus 6 as it's Google's latest mobile device) and then press Next: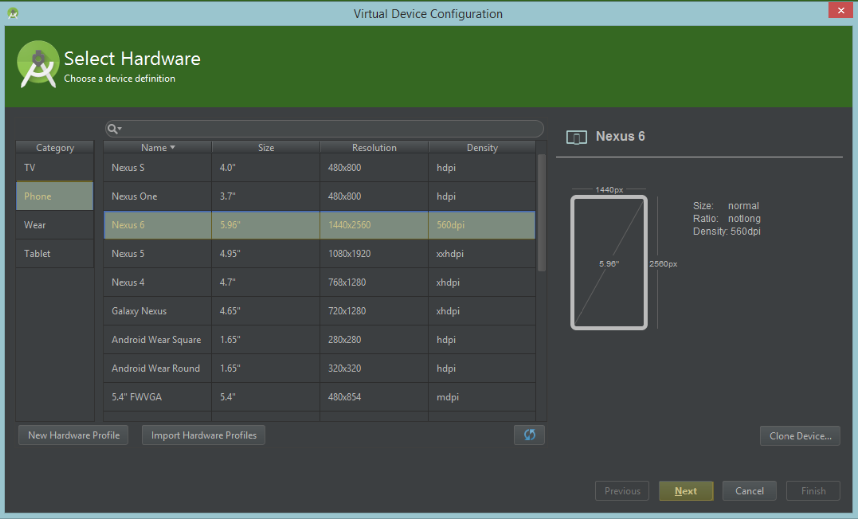 Next, select the version of the Android SDK you want the device to run (I'm going to be running on Lollipop as, that is currently the latest SDK version) and also what ABI you wish to use (You should select the one best for your system):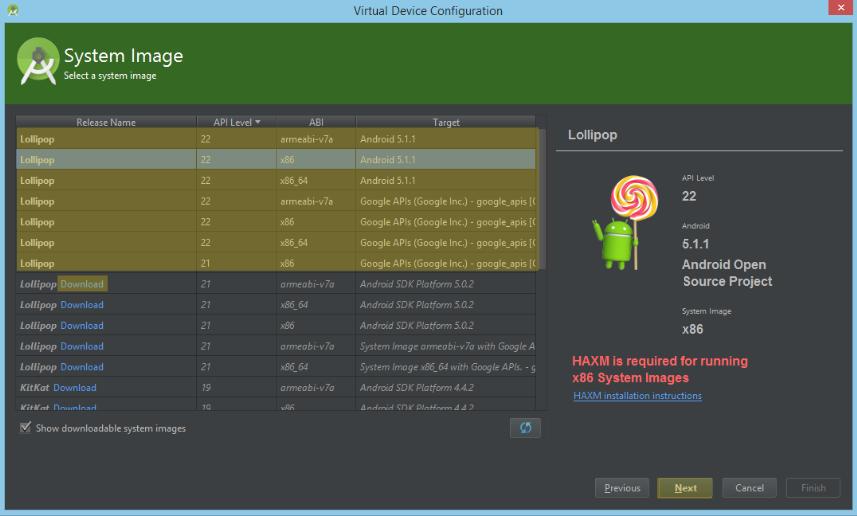 x86 is for 32-bit processors,
x64 is for 64-bit processors.
armeabi is a generic type based on the ARM architecture and also allows the running of other types of code, like C/C++.
Click Next again and you will be presented with this final screen:
Here, give the device a name (Or keep the default). You should also check Use Host GPU as it uses your Graphics card to make the emulator run faster (Although, it still is extremely slow however, Ben will later teach you about Genymotion, a faster, third-party emulator). Finally, click Finish and you will be able to choose this emulator on the Run screen.
It will take a while for the emulator to start up but, once it has, your app should load up automatically (If not, try pressing the Run button again).
Hopefully, you'll then be able to see you app but, if not, give me a shout.
---
Hope it helps and, if this hasn't solved your problem yet, give me a shout :)

Steve Hunter
57,682 Points
Can you post a screen shot of what you are seeing when you try to create a new project and when you are trying to run your app?
Steve.
Okay, when I started it up again, it began to download more software. Will update if this solves the issue.
Thanks, that did solve it. I don't know how I managed to delete that portion without realizing. Hopefully the videos will help with everything else!
Yeah, I googled it and saw that changing the SDK licks it, and that's what ended up solving the problem. Nature of the beast I suppose; Learning a language presents problems down the road, learning how to use a tool presents problems at the beginning! Thanks again.