Welcome to the Treehouse Community
The Treehouse Community is a meeting place for developers, designers, and programmers of all backgrounds and skill levels to get support. Collaborate here on code errors or bugs that you need feedback on, or asking for an extra set of eyes on your latest project. Join thousands of Treehouse students and alumni in the community today. (Note: Only Treehouse students can comment or ask questions, but non-students are welcome to browse our conversations.)
Looking to learn something new?
Treehouse offers a seven day free trial for new students. Get access to thousands of hours of content and a supportive community. Start your free trial today.
Christopher Peters
1,927 Points
Profile Additions
tl;dr profile additions!
Hello friends!
I'm a developer and data scientist here at Treehouse.
We're working hard to connect students with jobs. You will notice two new optional fields have been added to the profile edit screen.
The first is job title. This will allow you to enter your current job title to help communicate who you are to other students on your profile.
The second is income. Use the selector to choose the currency in which you receive your income. What is entered here will be held strictly confidential and not be shown anywhere on the site (outside of your own edit screen). Treehouse does not share personally identifiable data with partners. One way we may use the data is to give students a good idea of salary ranges for certain certain geographical areas.
One way we are already using the job title information provided is to make sure that earning Treehouse points demonstrates your skills and capabilities to prospective employers. Data that you have graciously provided supports that notion.
The graphs below show the point distribution across job classes like 'developer', 'designer' and 'other'. The plots on the left and right are related in that they are wider where the majority of students in each class fall. By comparing the thicknesses, you can see that developers and designers tend to have higher point totals than everyone else. This is an example of how we monitor point earning to ensure they carry value with prospective employers.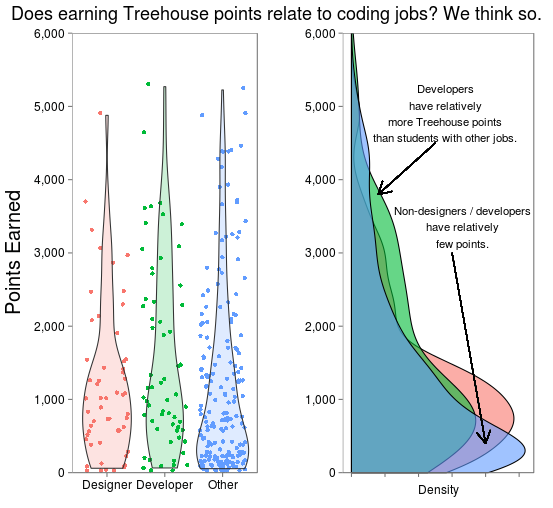 Whether you're skilling up for your current job, looking for your first job, or contemplating a career change, understanding industry job trends can be useful and we intend to share what we find!
If you have any questions about how this data may be used, please feel free to ask them below.