Welcome to the Treehouse Community
The Treehouse Community is a meeting place for developers, designers, and programmers of all backgrounds and skill levels to get support. Collaborate here on code errors or bugs that you need feedback on, or asking for an extra set of eyes on your latest project. Join thousands of Treehouse students and alumni in the community today. (Note: Only Treehouse students can comment or ask questions, but non-students are welcome to browse our conversations.)
Looking to learn something new?
Treehouse offers a seven day free trial for new students. Get access to thousands of hours of content and a supportive community. Start your free trial today.
Tristan Gaebler
6,204 Points
Questions about Linux pt.2
i get why people with windows systems might use linux, but is there any reason why you would use linux over os x? The only reason I can find is that it looks a little cooler. How many companies use linux? Is it even practical, meaning...can I do daily stuff like watch netflix or youtube? Thanks!
4 Answers
Stone Preston
42,016 Points
linux is just another operating system. it is widely used as the OS on web servers, which is why it comes in handy to know. one of the main advantages is that its free, open source, and very customizable. Its practical. you can use it like any other OS, although some programs that are available on platforms like OS X and windows might not be available to you. you can do daily stuff like watch youtube and netflix just like you can on other operating systems. Linux comes in many flavors (or distros). Ubuntu is probably one of the most popular ones for personal use
Like I said, most of the web servers in the world run linux, so as a web developer or designer its handy to know how to use it.
Im not sure what percentage of companies use linux to actually do work as opposed to just run servers. Probably not that many.
Its similar to OS X in that both of them are unix-like
Dustin Matlock
33,856 Points
Stone is correct. Linux is mainly used for web servers. Apps and an intuitive interface are what makes OS X more popular, and it's really just a candy-coated customized version of Unix.

John Hartney
2,893 Points
"as a web developer or designer its handy to know how to use it." Well said Mr Preston, exceptional! advice.
You can boot up Ubuntu from a Live CD without installing it on your hard drive, though I've not tried the live CD with OS-X installed, it works seamlessly with Windows installed.
Installing and using a Ubuntu Desktop is simple these days, the Ubuntu Software Centre makes the Installation of applications simple and all the software is free! Everything from basic applications to the latest Nvida drivers, Steam games, Full blown 3D editing, Multi track recording, Sound generators, you name it. If it's available on OS-X or Windows you will most likely find an alternative for Ubuntu. In addition, Linux can handle many applications designed to run implicitly on Windows using "wine", even MS word ran under wine when I last tested it.
Why company's don't use Linux as a desktop is a good question and a complex one at that.
In part, windows popularity within the enterprise and office can be manly attributed to things like early integration and active directory services however, Linux login requests against Active Directory on a windows server is fairly well supported now but good luck asking a sys admin to set it up for you. Even though Linux is the heart of the internet, installed on supercomputers to your humble router, TV's and just about every other device or module on the planet, including the preferred virtualization layer utilized in data centres, sadly it's failed with respect to office use.
I run LINUX Virtual servers behind LINUX Virtual Routers installed in a pool of servers running LINUX Hardware virtualization.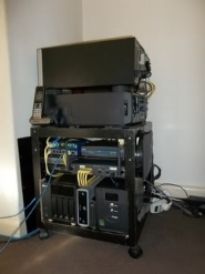 Having said all this, I still run a Windows desktop just because I play PC-Games that I still can't emulate with wine. d(-_-)b
All you want to do is "watch netflix or youtube?" I recommend you give Ubuntu a try.
Tristan Gaebler
6,204 Points
Thanks for the response guys! Great feedback. I'll give Linux a try. Either Ubuntu or Mint. I have a feeling I would only use Linux if OS X died. :)