Welcome to the Treehouse Community
The Treehouse Community is a meeting place for developers, designers, and programmers of all backgrounds and skill levels to get support. Collaborate here on code errors or bugs that you need feedback on, or asking for an extra set of eyes on your latest project. Join thousands of Treehouse students and alumni in the community today. (Note: Only Treehouse students can comment or ask questions, but non-students are welcome to browse our conversations.)
Looking to learn something new?
Treehouse offers a seven day free trial for new students. Get access to thousands of hours of content and a supportive community. Start your free trial today.
Jeffrey Cunningham
5,592 Points
Setting up Finder to view multiple levels?
At 0:45 when Zack is in the finder you will see that the xmamp folder he is in expands into different levels for each folder he goes into. In my finder I do not get this. I can only view the current level I am in.
How can I set up finder to do this? Is he using some kind of extension?
2 Answers
Brian Hayes
20,986 Points
Finder has view options up in the upper left part of the toolbar. I circled the option in red in the image below. You can see the one he has selected there too.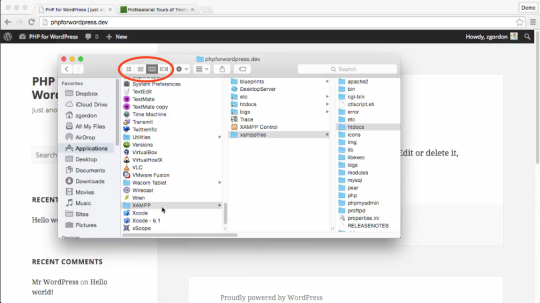 If it's not there, then you can right click the toolbar and hit "customize toolbar" and add it.
Dennis Eitner
Full Stack JavaScript
Techdegree Graduate
25,593 Points
I use pathfinder instead of the mac finder. much easier to navigate.