Welcome to the Treehouse Community
The Treehouse Community is a meeting place for developers, designers, and programmers of all backgrounds and skill levels to get support. Collaborate here on code errors or bugs that you need feedback on, or asking for an extra set of eyes on your latest project. Join thousands of Treehouse students and alumni in the community today. (Note: Only Treehouse students can comment or ask questions, but non-students are welcome to browse our conversations.)
Looking to learn something new?
Treehouse offers a seven day free trial for new students. Get access to thousands of hours of content and a supportive community. Start your free trial today.

still getting a 404 page
Setting up a parameter route in this tutorial, I'm still getting a 404 and I don't know why. I've followed Andrew's step-by-step in the video, but my eyes can't figure out what I'm doing wrong. Here's a screenshot. Any ideas? Thanks!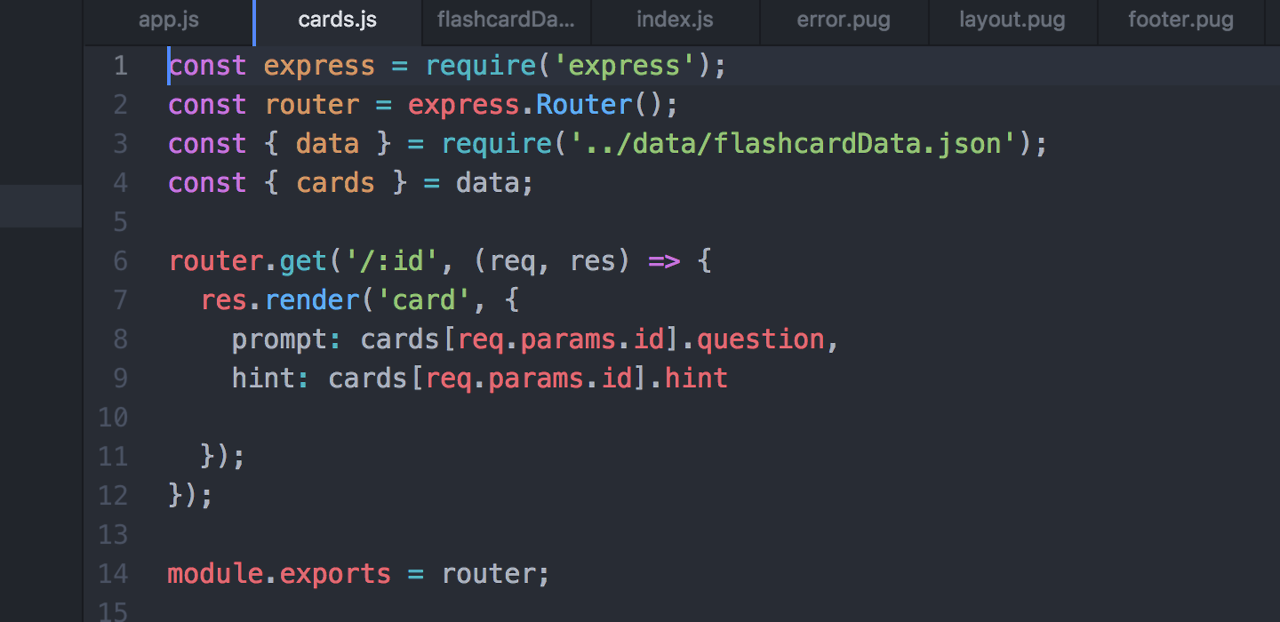 3 Answers

Tom Geraghty
24,162 Points
Yeah, after this video that is how the code sits. We setup a route for /cards/:id but that overwrote our original route for just /cards.
Since no match to /cards exists anymore, when you try and navigate there the server sends the 404 page.
It might make it easier if, instead of changing the existing route for cards/ in the video, we copied that into a second route above with cards/:id. That way when you are finished with this video you will get a correct route even without providing an ID in the URL.


Hmmm, so 'cards/1' and 'cards/2' and so on work fine, but '/cards' gets the 404, but maybe it's supposed to be that way and I just misunderstood Andrew. Thanks again for looking at it! :)
Alexander La Bianca
15,947 Points
Have you restarted your server? What is the route you are typing in? Are you doing /5 where 5 would be the id?