Welcome to the Treehouse Community
The Treehouse Community is a meeting place for developers, designers, and programmers of all backgrounds and skill levels to get support. Collaborate here on code errors or bugs that you need feedback on, or asking for an extra set of eyes on your latest project. Join thousands of Treehouse students and alumni in the community today. (Note: Only Treehouse students can comment or ask questions, but non-students are welcome to browse our conversations.)
Looking to learn something new?
Treehouse offers a seven day free trial for new students. Get access to thousands of hours of content and a supportive community. Start your free trial today.
David Klaphaak
12,924 Points
Treehouse not accepting gem commands?
The uninstall quiz for Ruby Gems asks us to enter the command to uninstall the money gem. I have typed "gem uninstall money" and TH says that's incorrect. A later question asks to uninstall a specific version of money. I typed "gem uninstall money -v 0.5.0" That also returns incorrect.
Any help on this?
2 Answers
William Li
Courses Plus Student
26,867 Points
Hi David, hmmm. your answers look correct to me, so I'm not entirely sure why the quiz didn't let it pass, perhaps there's a typo somewhere or the formatting is off?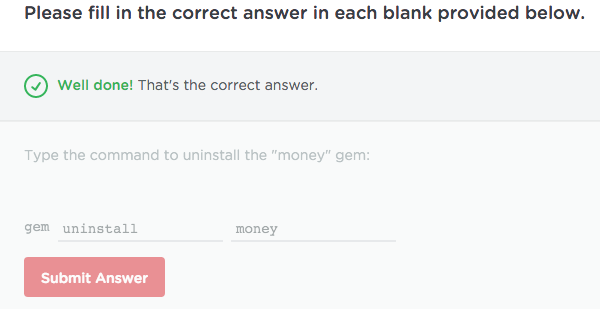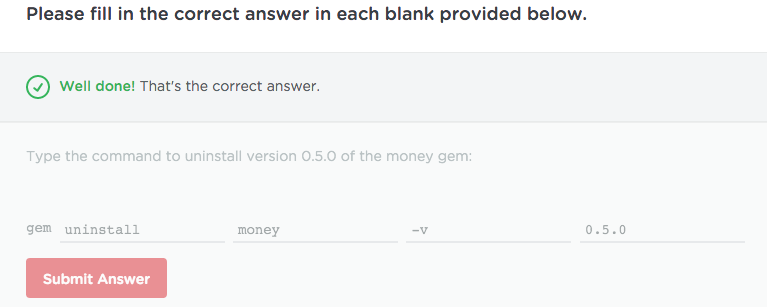 David Klaphaak
12,924 Points
I see... I was typing the entire answer at once. There's no indication that the second input field will appear. Thanks for your help, William Li.
Hey TREEHOUSE! This quiz is f-ed up. Do something about it!!!