Welcome to the Treehouse Community
Want to collaborate on code errors? Have bugs you need feedback on? Looking for an extra set of eyes on your latest project? Get support with fellow developers, designers, and programmers of all backgrounds and skill levels here with the Treehouse Community!
Looking to learn something new?
Treehouse offers a seven day free trial for new students. Get access to thousands of hours of content and join thousands of Treehouse students and alumni in the community today.
Start your free trial
Stanislav Majevski
15,654 Points
TROJAN detected in project files!
Emmmm , My Windows Defender detected Trojan virus in .zip files that I've downloaded from - Wordpress Theme Development course....
Trojan name - Sprisky.C!cl
Can I have some comments about it ?
7 Answers
William Li
Courses Plus Student
26,867 Points
It'd be best if you provide link to that particular lecture from which you download the project zip.
But I downloaded the project zip from the final lecture of the course, and scanned it.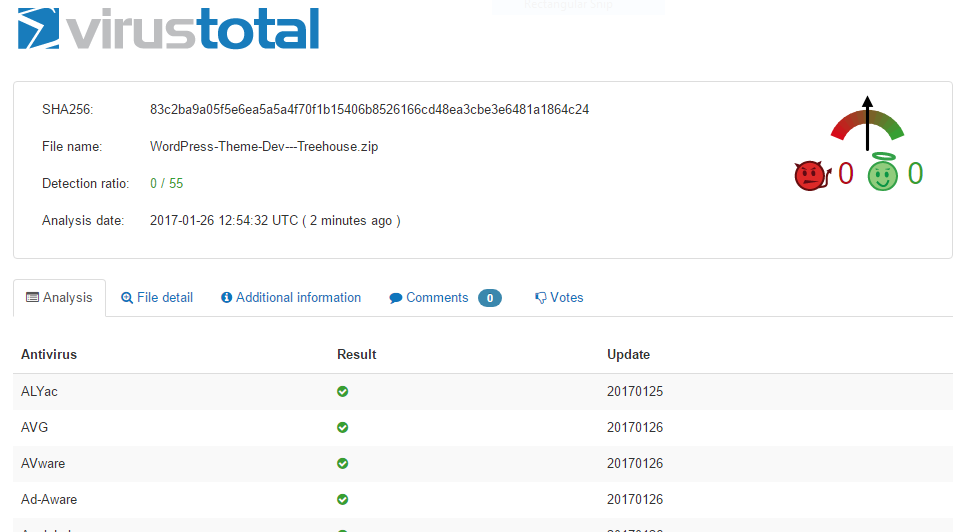 Detection ratio 0/55 from various anti-virus programs. I believe this is a false positive from your Windows Defender.
Can you specify exactly what files? It is likely a false positive but it's hard to say without having the link myself.
The zip file that is linked in the Teachers Notes for the WordPress Theme Development course did not get detected as malicious by Windows defender on my machine, and neither by Malwarebytes. And according to VirusTotal (A website that scans files with a multitude of different AV-Software) the file looks to be completely clean.
William Li
Courses Plus Student
26,867 Points
Adding to andren's great answer. I'd like to point out that there's nothing strange when Anti-Virus programs report false-positive, it happens sometimes. Not to mention the fact that Windows Defender never has the reputation of being the most reliable or powerful AV program on the market. My point is, while individual AV program might have the chance of reporting false-positive, it's the collective scan results of every major AV programs from VirusTotal that matters here. 0/55 detection ratio means the project zip is as clean as it can be.
Stanislav Majevski
15,654 Points