Welcome to the Treehouse Community
The Treehouse Community is a meeting place for developers, designers, and programmers of all backgrounds and skill levels to get support. Collaborate here on code errors or bugs that you need feedback on, or asking for an extra set of eyes on your latest project. Join thousands of Treehouse students and alumni in the community today. (Note: Only Treehouse students can comment or ask questions, but non-students are welcome to browse our conversations.)
Looking to learn something new?
Treehouse offers a seven day free trial for new students. Get access to thousands of hours of content and a supportive community. Start your free trial today.
Updated Podcast feeds for iTunes
Hiya Treehouse Students!
We just shipped a change to the way we do our iTunes feeds and I wanted to provide some details. If you look at your Dashboard or the Library page, you'll notice the original iTunes feed link is now missing and a little bit of information will direct you to the individual Course, Deep Dive, or Bonus Content Series pages. If you look near the top of any of those pages now, just above the links to each stage will be an iTunes feed link. This link is specific to that Course, Deep Dive, or Bonus Content so you don't have to subscribe to a Library feed of everything we provide.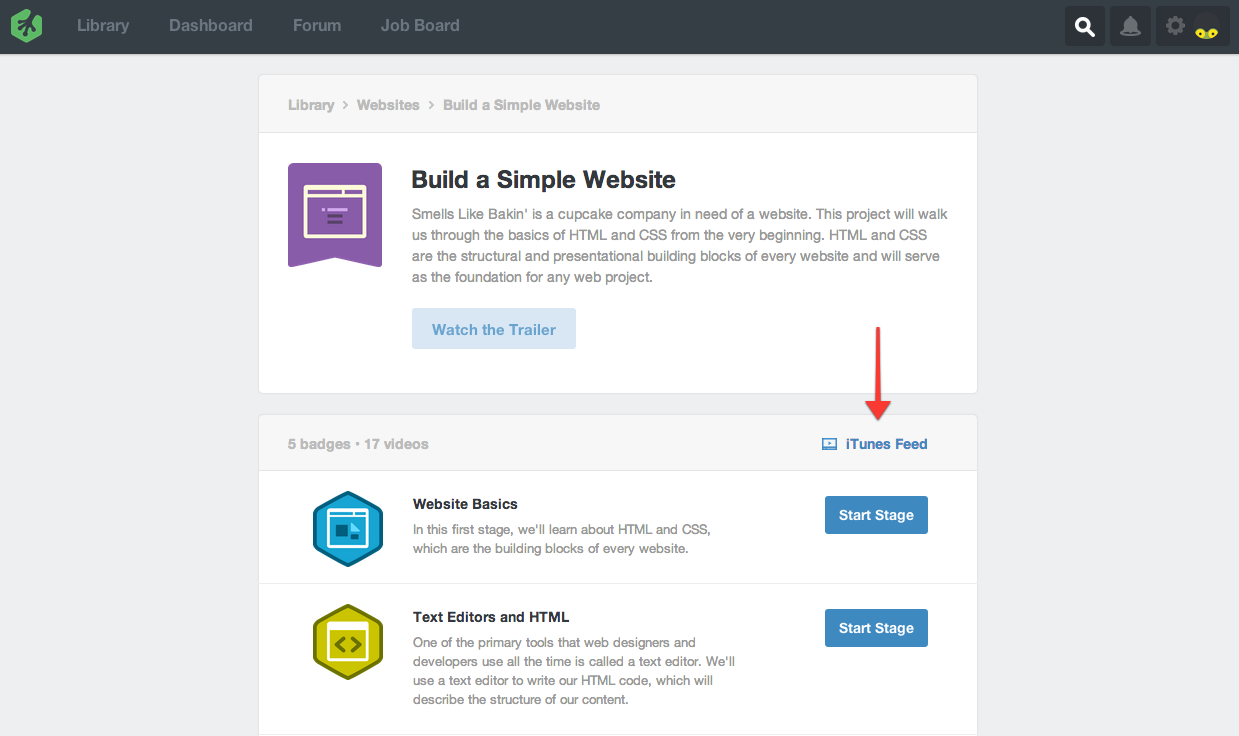 So where did that iTunes Library feed go? It'll stick around for a little bit longer as students begin finding the new links, but this feed will be retired soon so you should consider unsubscribing in iTunes. If you are currently subscribed to the library feed for iTunes, it will stop working at the end of this month. Overall, these feeds are smaller, faster, and more focused on specific areas of content. Our Library feed was getting more and more difficult to maintain as our content Library grew (and we have a LOT of content now) so the iTunes feed has gotten slower as a result. The size of the library feed also causes problems with iTunes and has trouble keeping up to date with our updates to content.
We believe this will be a much better way to access Treehouse content, but we're always listening for feedback on what you think.
Update: We've officially retired the feed now. If you are already subscribed to the old feed, you'll get an instructional video instead showing you where to go for the new video feeds.
10 Answers
Somasundaram Ayyappan
5,838 Points
Casey Dierking
2,365 Points
Muhammad Adil
3,488 Points
Great. Thanks for this addition. tbh previous feed link was useless because vidoes were out of order and I had to download all the videos and then find out which one belong to which course. Nice addition. Thanks.
Michael Quiapos
Courses Plus Student
14,537 Points
Samuel Johnson
9,152 Points
Great work because each my iTunes library was getting pretty unorganised...
Thanks Treehouse!
Balazs Nadasdi
Courses Plus Student
12,481 Points
iTunes is awesome, but I prefer Plex. But Plex can't mark an episode as watched in a channel. To fetch new episodes (with gold membership of course) via a cron script, check this article: https://coderwall.com/p/n7kpqa
Abd-elrouf Akra
3,468 Points
it's Awesome feature thank you guys ,, but i don't know why the feed is not in HD , Aaron Kalin can you help me about this ?