Welcome to the Treehouse Community
The Treehouse Community is a meeting place for developers, designers, and programmers of all backgrounds and skill levels to get support. Collaborate here on code errors or bugs that you need feedback on, or asking for an extra set of eyes on your latest project. Join thousands of Treehouse students and alumni in the community today. (Note: Only Treehouse students can comment or ask questions, but non-students are welcome to browse our conversations.)
Looking to learn something new?
Treehouse offers a seven day free trial for new students. Get access to thousands of hours of content and a supportive community. Start your free trial today.
Using PHP in Adobe Brackets Code Editor?
Hello Guys,
I'm current developing using Adobe Brackets, and plan to create a user login using PHP and a MySql database. However I'm struggling to find a way to get php working with Brackets as it doesn't automatically recognize the .php file format.
the error i'm getting is "To launch live preview with a server-side file, you need to specify a Base URL for this project"
Has anyone else stumbled upon this problem, and if so how did you solve it?
Thanks in advance
7 Answers

thomascawthorn
22,985 Points
Have you avoided using something like MAMP on purpose? It's always best to test in a real browser!
Waldo Alvarado
16,322 Points
In Brackets go to File ---> Open Folder... (Ctrl + Alt + O) open up the folder containing your php files (i.e. index.php), then open up your index.php, click live preview and type in http://localhost/. This should work for you.
Antonio Jaramillo
15,604 Points
Also keep in mind that you really don't need to use the Live Preview feature in Brackets if you are using a local server. I currently have my project in the htdocs folder of my Apache installation. By merely starting up Apache, typing in my localhost URL and clicking refresh whenever I make changes, Brackets still works like a charm.
Brackets with PHP works for me. You might have to go to the lower-right, and click on "HTML" (or whatever other language it says), and change it to PHP: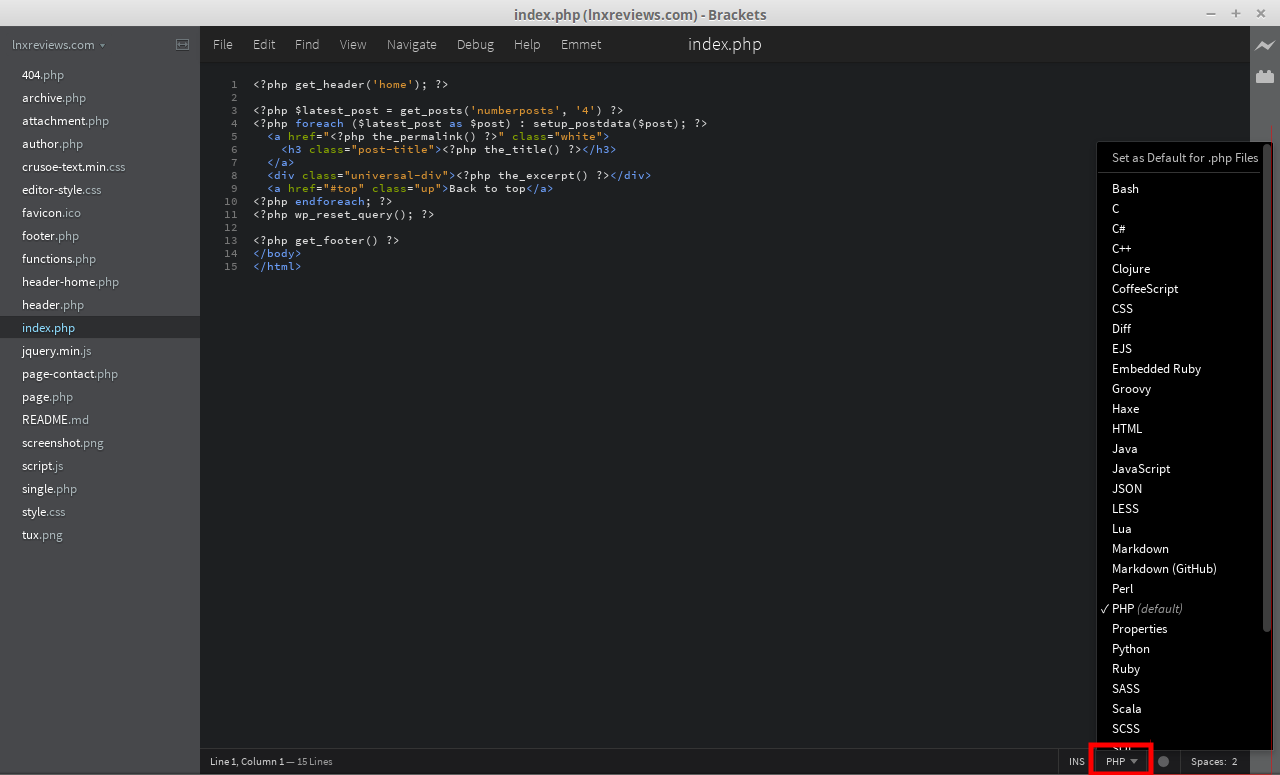 Cheers for the response, I've already got that set to php, in the Live preview I got the error
"To launch live preview with a server-side file, you need to specify a Base URL for this project"
you haven't come across this before?
Diego Hernandez
11,468 Points
Another recommendation is using the application CodeKit. You just enter in your server info, and your browser refreshes upon each save. I love Brackets, but I prefer Live Experimental Preview vs. manually refreshing the browser after each save.