Welcome to the Treehouse Community
Want to collaborate on code errors? Have bugs you need feedback on? Looking for an extra set of eyes on your latest project? Get support with fellow developers, designers, and programmers of all backgrounds and skill levels here with the Treehouse Community!
Looking to learn something new?
Treehouse offers a seven day free trial for new students. Get access to thousands of hours of content and join thousands of Treehouse students and alumni in the community today.
Start your free trial
Johnny Thunder
2,724 Points
Goodbye Track Schedules. Hello Content Suggestion Emails!
Recently, we rolled out some spiffy new updates to our Home screen. Among these updates was a new module to suggest what daily learning should be completed... We like to call them Content Suggestions. Along with various other reasons for introducing Content Suggestions, we were hoping for these daily suggestions to relieve our Track Schedules.
You will notice that we've now removed the Track Schedule dropdown form from our Track detail pages. We're also going to start delivering daily Content Suggestions emails to make it even easier to see what's on your plate for today!
Content Suggestion Email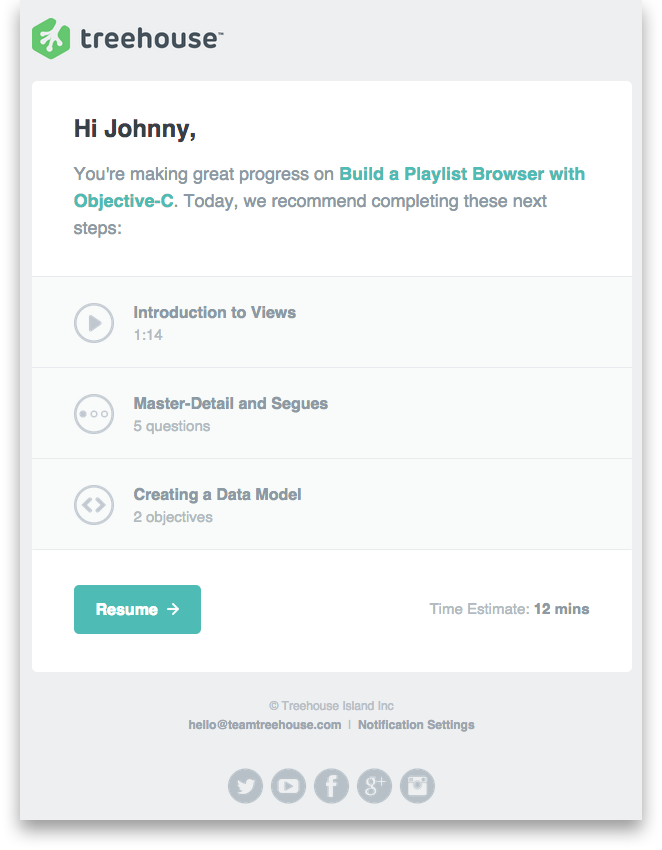 Don't worry, like our other emails, these can be disabled in your Notification Settings. We also won't bombard you with duplicate emails in the event that you take a short break from learning. Our email system is smart like that.
We hope you're just as stoked about these updates as we are. And as always, we're here to serve, so please leave feedback on this post or email our support team (help@teamtreehouse.com) if there's anything we can do to make learning at Treehouse better for you.