Welcome to the Treehouse Community
Want to collaborate on code errors? Have bugs you need feedback on? Looking for an extra set of eyes on your latest project? Get support with fellow developers, designers, and programmers of all backgrounds and skill levels here with the Treehouse Community!
Looking to learn something new?
Treehouse offers a seven day free trial for new students. Get access to thousands of hours of content and join thousands of Treehouse students and alumni in the community today.
Start your free trial
Video Player Speed Controls
Hey everybody! I just wanted to let you all know that we've now added the ability to change the speed while watching videos.
Here's a look at the new control Tyson Rosage designed.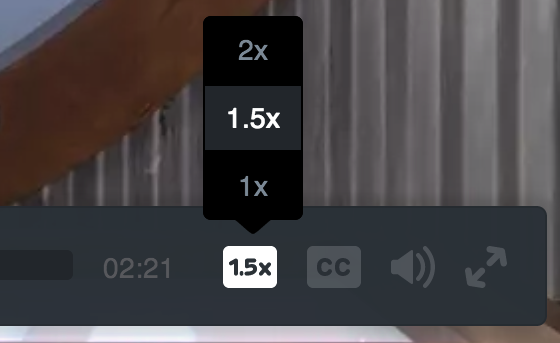 We hope you enjoy, though Jason Seifer's smile doesn't have quite the same effect at 2x speed!
13 Answers
James Barnett
39,199 Points
Would it be possible to get a 0.75x option, this use case was mentioned in a recent thread in regards to technical jargon and non-native English speakers.
minzawmra
Courses Plus Student
15,682 Points
Thanks for that. The ability to slow down videos will also be great. It will be useful for typing code while watching the video because sometimes the speed of the video is too quick to follow.
Christopher Peters
1,927 Points
Joe Steele, great job! I'd also like to see a 1.25x option. 1.5x seems a bit too fast for me.
Calum Patrick
3,349 Points
This feature is great for over viewing videos or to catch something you missed.
Sean Templeton
12,983 Points
I LOVE this feature. There are a lot of videos containing stuff I already know, but I don't want to skip it in-case there is a small nugget of knowledge I'd miss. Now I can fast-forward at 2x and just get a quick overview.
My video player doesn't show the speed option in firefox or chrome. Why?
Thanks James. I did try that. No luck. I'll email the team. Thanks.
Jonathan Tame
14,524 Points
This is a fantastic feature that I wish more video-learning sites would implement. It's especially helpful when revisiting previously learned material as a refresher or covering a course that's already familiar but not mastered. Thanks!
benjamin perodeau
7,469 Points
Very useful feature. I'm wondering if you can make the video toolbar disappear as soon as I move cursor off of video area. The bar currently lingers for a few seconds and frequently obscures relevant sections of code, etc.
On the website the speed option is saved and all subsequent videos plays at the saved speed. I like this a lot, but in the iPad app, although the options are available, the speed isn't saved throughout the subsequent video plays. So every time i watch a video a i have to set it again. It would be great if you save the speed option as global in the iPad app too. Thanks a lot!
I need to watch videos at at least 3x to 4x speed for content I already know (unfortunately this is not possible with the treehouse video playback interface). I also need the ability to rapidly shift between speeds via a keyboard shortcut. Can some one please figure out a hack to enable video speed playback controller or perhaps some JavaScript code that can be typed into the console to do so (I can map the code to a keyboard shortcut).