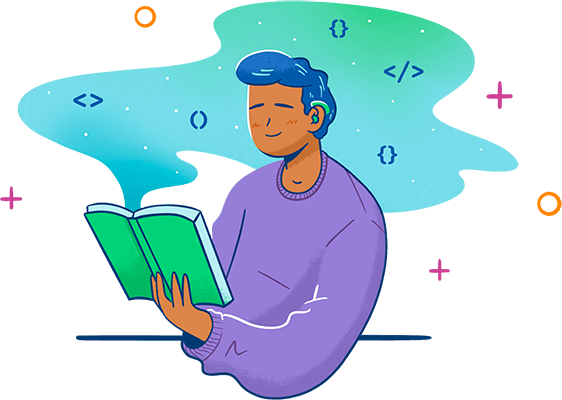 Welcome to Tracks
Treehouse Tracks are guided curriculums that cover all relevant Courses and Workshops necessary to master a subject. Treehouse's learning library includes dozens of Tracks on a variety of topics including web design, programming, and more. With Compass, you'll also be able to test out of subjects you already know, and create a custom curriculum for your learning goals.
View all Tracks
Ready to start learning?
Treehouse offers a 7 day free trial for new students. Get access to 1000s of hours of content. Learn to code, land your dream job.
Start Your Free Trial
28 hours
Track
Start Your Coding Journey
---
This Track is ideal for someone who's ready to dive in but isn't sure which language to choose—you'll get a thorough introduction to HTML, CSS, JavaScript, Python, Ruby, PHP, React, and more!
There are tons of advantages to learning multiple coding languages. Even if you do end up honing in on one, odds are you'll still use—or work with people who use—other languages.
You'll start this Track with courses on Computer Basics, How the Internet Works, and How the Web Works. These courses make this Track well-suited for a true beginner, no matter your background! (Remember, you can always test out of material you already know!)
Next, you'll take courses in HTML and CSS basics, as well as dive into some intermediate CSS design layout concepts. To wrap up the design portion of the Track, you'll take an Introduction to Wireframing course, to get you ready to design a website.
We believe the logical next step in your coding journey is establishing a firm foundation in JavaScript. Our JavaScript Basics, JavaScript Numbers, and JavaScript Functions courses will give you a strong familiarity with the multi-purpose language.
Once you're familiar with JavaScript, you'll add React, PHP, Python, Ruby, and Swift Basics to your arsenal. While few developers use all of these languages at once, most will use them all at some points. Plus, knowing the basics of these languages will help you figure out which one you hope to take next steps in.
This Track will give you an overview of a variety of different programming languages and disciplines that are essential to a career in the industry. Start exploring and fall in love with a career path that works best for you!
An entry-level salary for the technologies covered in this track is about $60,000 / yr on average.